Behind the scenes of Academic Decathlon
The Academic Decathlon is an annual competition in which high school students have to undergo many academic tests and are placed based off of the total points they have compared to other competing high schools. Students have to give a speech that was prepared by them, a speech with a minute long preparation time and are then interviewed in front of a panel of judges.
They also have to take seven different 30 minute, 50 question Scantron tests about that relates to a theme. This years topic was India which included tests over the history of India, economy of India, music of India, ecology of India, along with a few other tests that relate to that years theme.
Extended Learning Program (ELP) and AP World Studies teacher Sue Cline has been supervising for 15 years. "I hardly do any of the work," Cline said. "[The students] teach all of the study sessions and all I do is file the paperwork and provide food for them when they practice for the event."
After submitting the transcripts, Cline has to sort out students GPAs based off of a very specific system that doesn't include weighted grades. So if they have an AP class, what they ending up receiving in the class will go in as what you got. The system also does not include any grades based on performance such as choirs, PE, art and other similar classes to be included in their Academic Decathlon GPA.
Your GPA is what is used to place students into groups at the competition. A 3.75 to a 4.0 is called the honors category, next there is a group of kids who have a 3.0 to a 3.74, followed by a group of anyone below a GPA of 3.0.
Each school can only take three kids from each group and the rest are alternates. Cline is encouraging anyone to join the team and does not care if they show up to any practices. "The lower your GPA, the better we like it," Cline said. "We are literally taking zeros at competitions because there are so many people fighting for spots in the top two groups and there is no one to fill those spots [in the bottom group]."
During the regional Decathlon that takes place in Des Moines, Johnston has won the regional competition in back to back years along with an additional quiz bowl activity which they also took first in this year. Each question on the Scantron test is worth 20 points and students can get up to 9000 points each. "They can't have everybody getting everything right so these tests are designed to be impossible," Cline said. "A really good score for Econ this year would be around a 40 percent."
Some students that participate in the decathlon feel like people do not give them enough recognition for knowing the amount that they do. Sophomore Kayla Davis who has competed in her second decathlon this year and received Second Overall Best Alternate this year feels very strongly on the matter. "It seems to be a thing in Johnston that athletics and popularity get more recognition than academics," Davis said. "There were things on school district's Twitter about all sorts of sports and nothing about activities like Science Olympiad, Mock Trial and the Academic Decathlon."
Although they are not getting much recognition from the community, the decathlon team is very satisfied with the success the have had this year. "The team that beat us put in 20 times the amount of time and practiced everyday for a semester while we studied once a week," Cline said. "We are very pleased with the success we had and we are disappointed when we don't do well but they have fun which works better in the end."
About the Contributor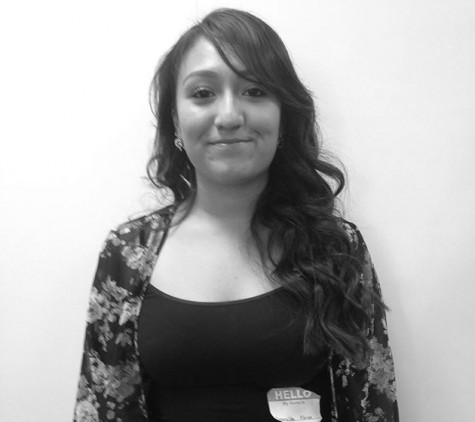 Esmeralda Flores, Photo editor
Esmeralda Flores is a 17- year-old with the mindset of an eight-year-old. She enjoys eating fruit loops while watching Spongebob. Her eyebrow game is always...