Amidst the many inspiring adults of the Johnston community are teachers and coaches that students admire. One greatly appreciated representative of the school district is the high school volleyball coach, Richard Brooks. Brooks is so idolized by the volleyball team that they created an Instagram fan page dedicated to him and the success of the team. Volleyball players Ava Helming '24 and Maeve Rehmann '24 run the account. The photos that are posted are mostly taken by the senior players, along with the parents and coaches who take pictures of the team.
"It's a platform where we post funny content [of Brooks] or highlights of the volleyball team…not affiliated with JHS or JCSD," Helming said.
The volleyball team makes an effort to get the school more involved in their sport by connecting to students and sharing funny behind the scenes.
"I think it's a way for the team to have some fun, even at my expense, and promote what's happening. As long as it's appropriate, then I'm fine with it," Brooks said.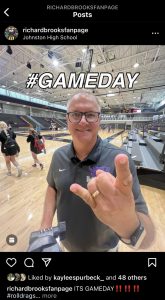 One post stated, "IT'S GAME DAY! #rolldrags." This post was intended to get students excited. It amusingly informed students of the game so that they can come and support the team.
Another post said, "Happy Friday from Ken #slayed," along with a humorous picture of Coach Brooks in a blonde wig and another of the volleyball team dressed in pink. The team has always found a way to incorporate fun and team bonding into their atmosphere, including various dress up days which the coaches may also take part in.
"The main thing I admire about our coaches is probably the balance of fun and seriousness they allow us to have. Our coaches are all for having fun and enjoying ourselves, …but when it's time to get stuff done and focus, we are able to do that as well," said volleyball player Josie Pundt '24.
Although the team incorporates a lot of fun into their practices, Coach Brooks values not only coaching his athletes to be successful, but teaching them valuable characteristics and life lessons.
"Obviously, we want our athletes to develop…their volleyball knowledge and skill. We also want our athletes to develop in leadership, perseverance, character and relationship building. We want them to learn how to set goals, learn how it takes work to attain them, but we also want the experience to be fun. We want them to make some lifelong friendships and fond memories," Brooks said.
One way the volleyball team is able to build these friendships and characteristics is through strong communication and fun team bonding activities.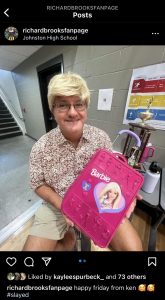 "One thing I think that helps us be such a close team is the communication we have with each other. A lot of us are friends on and off the court, so that helps us work well together. As for the younger and newer girls, we make sure that everyone is heard at all times and enforce this by asking for everyone to say something instead of the same few everytime. This allows us all to be on the same page and feel comfortable around each other. We also plan team bonding activities for a fun little thing to do when we don't have games or practice," Pundt said.
Coach Brooks admires how his athletes find ways to connect with each other through communication and team bonding. He believes this and learning how to work together is an important role of being part of a team in sport. This is valuable for athletes to learn because in future careers, this is a characteristic that employers really search for.
"As with any group, personalities can be challenging to merge. That's one of the aspects of sport that makes it valued. People have to learn how to work well with one another, trust each other and move forward in the same direction. People are competing with one another for positions, but must also be supportive and accept certain roles. All the athletes bring value to the team in one way or another. As we tell the girls, learn to give more than you take."