Boys and Girls Cross Country Open Their Season At Pleasant
The boys and girls varsity and top JV teams opened their season on Saturday September 5, 2020. Both teams started their seasons off well with both JVs winning their meets. The girls varsity won their race and the boys varsity placed second by only six points.
The girls JV team that placed first was lead by freshman Abigal Wharton '24 who won the JV race by 53 seconds with a 21:21. Following Wharton was Olivia Hayes '21 with a 22:13, Krissy Spear '24 with a 22:28, Jenna Woodsmall '22 with a 22:44, Paige Ryan '22 with a 23:01, Zoey Buchan '22 with a 23:11, and Lauryn Johannsen '22 with a 23:14.
The girls varsity team placed first with a total of 33 points. They had three runners in the top five. Bella Hiekes '21 placed second with a time of 19:38, Aleah Tenpas '22 placed fourth with a time of 19:50, and Olivia Verde placed fifth with a time of 20:05. To finish the team Sam Strauss '21 placed eighth with a time of 20:32, Bailey Vaughan '22 placed 14th with a time of 21:17, and Abbie McLaren placed 25th with a time of 22:05. This was a good start for the girls team as they seek to defend their state title.
The boys JV dominated their race by placing five players in the top seven which includes placing four in the top four. The boys JV team was lead by Kyle Battani '21 who won the race with a time of 17:49. Tate Severs '22 placed second with a time of 18:02 and was followed by Zach Harvey '21 who placed third with a time of 18:05, Stephen Beaman '22 placed fourth with a time of 18:12, Jake Wagner '22 placed seventh with a time of 18:16, Grant Allen '21 placed tenth with a time of 18:26, and Eli Erickson '22 placed 12th with a time of 18:28. They came two points away from a perfect sweep.
The boys varsity placed second and lost to Cedar Rapids Praire by 6 points. Yohana Yual '21 was the top finisher for the boys team as he placed second with a time of 16:29. Carter Borwick '21 placed 11th with a time of 17:12 and Carson Stanley '21 followed close behind placing 12th with a 17:13. Following them was Carter Eckhoff '22 who placed 17th with a time of 17:32, Matt Borgemeier '21 who placed 20th with a time of 17:38, Nathan Kellar '21 who placed 35th with a time of 18:12 and Aidan O'Connor '23 who placed 48th with a time of 18:49. This was a strong start for the boys team that placed fourth a the state meet last year and returned only two varsity runners.
Both team's varsities will be running at Marshalltown on September 10, 2020 against some of the top competition in the state.
About the Contributor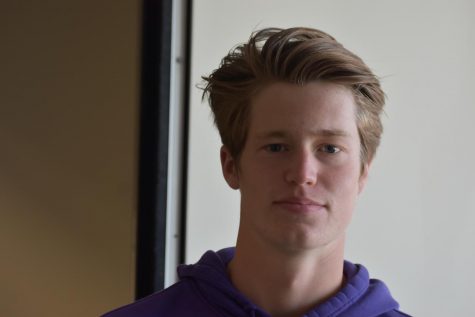 Joel Kellar, Sports Editor
Joel Kellar is a Senior and this is his fifth semester on the news staff and his second year as Sports Editor. He enjoys playing the french horn and does...