Dragons earn trip to state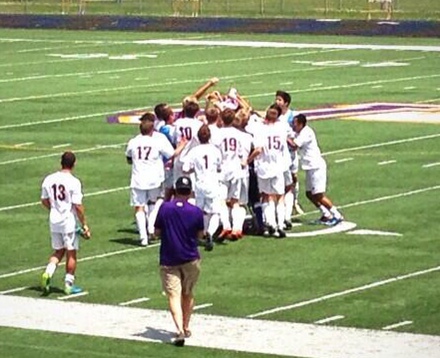 The boys' soccer team will be heading to state this week after winning the substate final against Southeast Polk Saturday. The final score was 1-0 with sophomore Elvir Ibisevic scoring the only goal of the game off of a free kick about 25 yards out. Johnston was awarded the free kick after a Southeast Polk defender fouled Ibisevic.
The Dragons are undefeated this season with 19 wins. They will play Ames (13-4) June 5 at 5 p.m. at the Des Moines Cownie Soccer Park. Johnston beat Ames earlier in the season 2-1.
Junior Tristan Coaldrake points out both the strengths and the weaknesses as the team aims for the state championship title. "For weaknesses I would say our undefeated record because that causes some people to think that we should just win and we will have no competition which comes back to bite them," Coaldrake said. "But our strengths are great too, our two dominant forwards up top as well as the confidence we have."
Head coach Heath Weeks is confident about the tournament. "We are going to do everything we can to be physically and mentally prepared for these next games and then just try to go out there and do our best," Weeks said. "We have a very high standard for ourselves and how we play, and hopefully we can consistently play at that level and put ourselves in a good position to win some games."