Dream, dare, do
Hang on for a minute...we're trying to find some more stories you might like.
It took me ages to write this, mostly because I didn't know what to say. How do you encapsulate a life-changing experience? For five days over the summer, I attended the Al Neuharth Free Spirit and Journalism Conference, which brings 51 rising seniors (one from each state and D.C.) to the nation's capital for five days. A scholarship sponsored by the Freedom Forum, we learned about journalism, politics, Al Neuharth, and one of his favorite sayings, "dream, dare, do."
We had Q&A's with Pulitzer winners and toured the USA Today studios. We even attended a taping of Meet the Press. Chuck Todd autographed his book for us, and in mine, he wrote: "Since you get a front row seat to politics in Iowa, it should be in your blood!"
Funnily enough, before I attended the conference I wasn't sure exactly what I wanted to do for a career. Journalism was a major possibility, but it's a hard field, messy and complicated, with little stability. Politics, or developing policies, was an option I was seriously considering. What I didn't realize, however, was that journalism as a field isn't very polarized. As I spoke to political reporters and toured the U.S. Capitol, I realized that combining my two interests didn't mean standing in the back of a Trump rally getting screamed at (true story), but instead having a front row seat to politicians and their every day work. It's developing close relationships, doing something new every day and informing the nation.
Of course, we did more than just tours and sessions. One night, we were able to attend the award dinner for the Al Neuharth Award for Excellence in The Media, of which Marty Baron was the recipient. There was an event before to meet former Free Spirits, and then after that many Newseum donors and other reporters. We also were able to tour monuments each night, bond over the amazing catering, and fall asleep every night exhausted from it all but anticipating the next day.
I expected to leave the conferenced changed, and I did. However, I was wrong about how it would happen. I thought it would be because I was left to gallivant around a big city on my own, to create new memories with a bunch of strangers-turned-friends. That happened, but also learned so much in only a few days about who I am and who I want to be.
I can never thank strongly enough the Freedom Forum, the Newseum Institute, the Close Up Foundation, and of course, Al Neuharth. I hope I continue to never stop dreaming, daring, doing.

About the Writer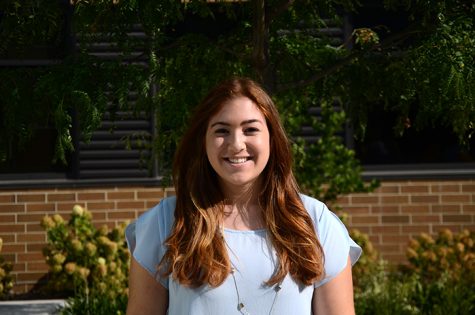 Kathryn Ikeda, Editor-in-Chief
Kathryn is a senior who loves napping and caramel lattes. It is her fourth year on the newspaper staff. She loves bad puns, dogs and social justice, though...