Former student raises $15,000 to purchase wheelchair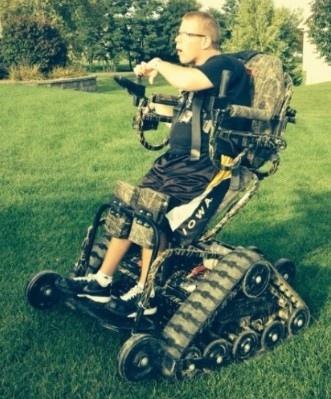 Graduated senior Mason Rumpf recently met is goal of raising $15,000 to purchase an Action TrackChair. With an Action TrackChair, he would be able to mow lawns, plow snow and help in pumpkin patches during the fall months. Born with cerebral palsy he wants to be able to support himself.
Rumpf found out about the Action TrackChair at a Fourth of July party last year. He saw a recent accident victim using the chair and immediately wanted to know more about it.
An Action TrackChair has tracks instead of wheels, allowing whoever is using it to go on terrain he could not go on with a regular wheelchair like mud, sand and rocky areas. The seat tilts up, so the user can stand when he uses the chair.
Rumpf is preparing to go into a group home with roommates, as well as being able to make money with all the uses of the Action TrackChair. "I'm so happy and very excited, it's going to be good for me," Rumpf said. "I'm ready to get out of my parents' house."
Because the chair is expensive Rumpf's family did not have the money. In order to raise the amount they needed, Rumpf's family started a campaign on GoFundMe.com. In just over 20 days after the campaign began, the website had already raised $11,000. The donors are a combination of family, friends and anonymous donors, leaving messages of love and support.
Rumpf"s mother Patti Anderson is happy that her son has a chance to improve his life through the chair. "I'm just so overwhelmed," Anderson said. "[Mason] is just so self-advocating… and so motivated."