Hollywood returns to whitewashing the movie screen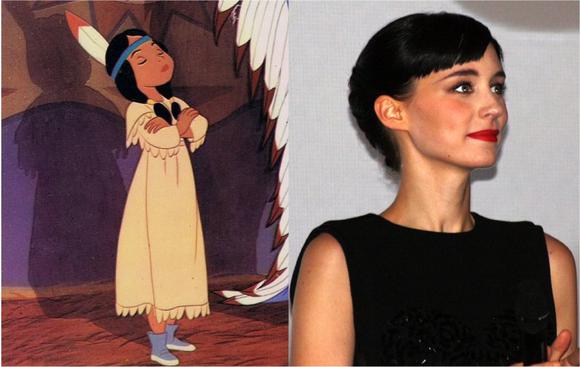 In the first trailer for July 2015's "Pan" there is a thing that sticks out like a sore thumb. In "Pan" the Native American Tiger Lily is played by Caucasian actress Rooney Mara. This casting decision has caused much controversy and uproar.
"Whitewashing" is becoming common in movies. In films such as "Prince of Persia" and "The Last Airbender" the main characters were played by Caucasian actors, while the villains and minor characters were kept as people of color. Some movies put Caucasian actors within a story that surrounds people of color, such as "47 Ronin" and "Dragonball: Evolution."
While I plan on seeing "Pan" I feel as if I will constantly be distracted throughout because of Tiger Lily being played by a Caucasian woman. It makes sense to cast Caucasian actors for characters such as Peter Pan, Blackbeard, and Hook, because they are traditionally white. As with Tiger Lily, she is traditionally Native American, so she should be portrayed by a Native American actress. Many articles about the casting portrayed that the casting department seemed to not even search for a Native American actress.
Some could say that Rooney Mara was casted for the sake of having a recognizable face in order to boost ticket sales, however, some could see it as whitewashing. Would people not want to see the movie if a person of color is involved? There are plenty of women of Native American ancestry who are good actresses and would be perfect for the role. Alas, it seems as if Hollywood is intent on taking the easy route when it comes to casting their films.
"Pan" seems to have some high points in terms of casting, with a look at the cast list on the Internet Movie Database. A girl of African descent was cast to play Wendy, an aboriginal to play Tiger Lily's father (which is a whole other discussion), and an African-British actor to play the right hand of Hugh Jackman's Blackbeard. Although these are diverse actors, the trailer does not showcase the director's supposed idea of a diverse Neverland, as the trailer focuses on the main characters, who are white.
At least movies that whitewash are called out on doing so, and most movies that do this usually do terribly at the box office and in reviews:
(Percentages from Rotten Tomatoes)
"The Lone Ranger" – Johnny Depp as Native American Tonto – 69% of critics gave a negative review
"Prince of Persia" – Jake Gyllenhaal as Persian Prince Dastan – 64% of critics gave a negative review
"The Last Airbender" – Various Caucasian actors as Asian or Inuit characters – 94% of critics gave a negative
"47 Ronin" – Keanu Reeves as a half-Asian man – 86% of critics gave a negative review
"Dragonball: Evolution" – Justin Chatwin as Asian Goku – 86% of critics gave a negative review
A lot of the examples given have the whitewashing of Asian or Middle Eastern characters. The late 2014 movie, "Exodus: Gods and Kings" and "Gods of Egypt" planned to be released in 2016, show Caucasian actors playing characters that are historically not. This has been an issue since over 50 years ago, with Elizabeth Taylor as a pale-skinned Cleopatra in 1963 and John Wayne as Genghis Khan in 1956. Have filmmakers really learned nothing in that long amount of time?
A problem that has risen in terms of a mostly white Hollywood is the announcement of the Oscar nominees. All of the acting categories are Caucasian actors. While the drama about Martin Luther King Jr., "Selma" is nominated for Best Picture, the actor who plays Dr. King, African-British David Oyelowo, is not nominated for Best Actor, and even the African-American female director, Ava DuVernay, is not nominated for Best Director. While you can't exactly call this whitewashing, it is still worth mentioning, as a 2012 New York Times survey says that of the 6,028 Oscar voters at the Academy, over 94 percent are Caucasian. While the president of the Academy, Cheryl Boone Isaacs, is an African-American woman, apparently Academy voters have not picked up on the idea of cultural change.
However, there are examples today of proper representation of people of color in movies and television. Netflix may be a good place for representation, with their shows "Orange is the New Black" and "Marco Polo" which give proper parts to African, Hispanic, or Asian actors. In terms of movies, with Marvel's recent announcement of a Black Panther film, a character who is and will be played by an African American, and John Boyega, an African-British actor, is one of the leads in the new "Star Wars" film. We are definitely better at casting characters of color than 50 years ago, but there is clear evidence that our viewpoint needs improvement.