Homecoming week recap
During homecoming week there are many events that take place for students. Events that occurred this year included Rock Around the Clock, the annual PowderPuff game and the Friday night football game.
Rock Around the Clock is an event held every year by Student Council. Students are able to sign up as teams of 12 while only 42 teams can compete in this event. Student Council randomly chooses the 42 teams. Teams then compete in 14 different events such as a pudding slide, tug-of-war and a cheese ball toss.
The PowderPuff game is a football game where roles are reversed. Girls can sign up to play flag football, boys can sign up to be cheerleaders and other students can be coaches for the teams. Each team is split up by grade, sophomores play against juniors and then the team that wins that game competes against the senior team.
Last week the PowderPuff game was cancelled due to lightning just as the sophomore and junior teams went into overtime. Students had the opportunity to leave the event or go into the gym while a decision was being made about whether or not to continue the game. Students who went to the gym were then asked to leave by basketball coaches of younger teams. After this students left or continued to wait outside.
The homecoming game was played against East High School. By half-time the Dragons were down 14-7 against the scarlets. In the third quarter junior Jake Meyer was able to run 61 yards to get the ball down to the five -yard line. During the fourth quarter senior Jeran Proctor was able to catch the ball one-handed at the 20 yard line. The Dragons won the game, 21-20.
About the Contributor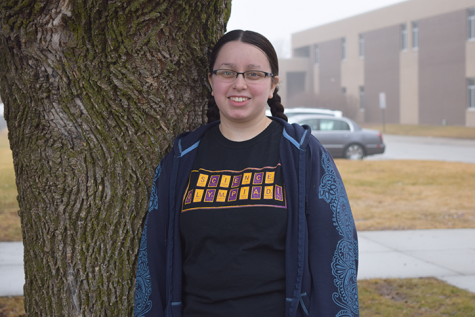 Kitarrah Mangra-Dutcher, Photo Editor
Kitarrah Mangra-Dutcher is a senior. She is The Black & White's photo editor and part of the High School Science Olympiad team. She is also a mentor...