Johnston qualifies numerous students to nationals
Twenty-five  students competed at the National History Day (NHD) regional competition April 8, 10  of which qualified for the national competition in Washington D.C. NHD allows students to compete through many different medias such as websites or presentations.
Allie Tubbs '19 has qualified for nationals five years in a row. She competed in senior individual performance. "The experience at Nationals is unlike any other," Tubbs said. "You get to meet so many amazing people as well as learn the stories of many inspiring heroes."
Tubbs' topic is Fannie Lou Hamer. Hamer was a civil rights activists who pushed for voting equality. "I love to share the story of hidden heroes and cannot wait to tell everybody the story of Fannie Lou Hamer at Nationals," Tubbs said.
A sophomore group consisting of Obsee Abbajabal, Marianne Aldrich, Angela Cai, Lauren Fergus and Parul Srivastava competed in senior group website. Last year Abba Jabal, Fergus and Srivastava all qualified and went to nationals. This will be Aldrich and Cai's first time competing at nationals.
The group's topic is the Native American occupation of Alcatraz. Aldrich talked about her reaction to qualifying for nationals. "We were all very excited about it," Aldrich said. "We were very confident about what we did. We worked on it really hard and it looked really good. I definitely think we earned it though."
An all-junior group will also be going to Washington D.C. to compete. The group is made up by Isla Chowanec, Meredith McDonald, Gwynna Miner and Natalie Voss. This group qualified in senior group exhibit. The group presented information on the Velvet Revolution. This will be their second time going to nationals. Madison Gregurek '18, also recieved the Jim Wengert Award for Labor History.
About the Writer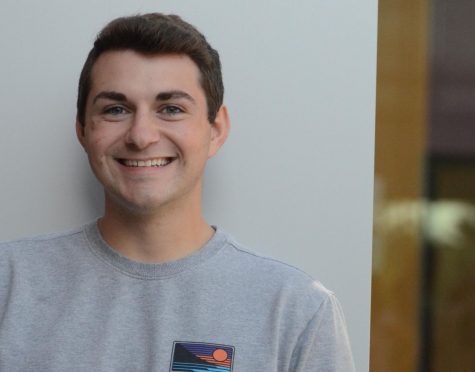 Andrew Maresca, Editor-in-Chief
Andrew Maresca is a senior and it is his fourth semester on staff. He is a clumsy coffee addict who likes to believe his life is as put together as his...