"La La Land," a whimsical tribute to the Hollywood dream
Musicals made me a romantic. Chances are, you're going to fall and fall hard for Damien Chazelles newest film La La Land. Winning seven golden globes, 11 baftas, and winner of the 89th Academy Awards for best picture, La La Land has crushed the competition in every category. But what is it about this modern-day Ginger Rodgers/Fred Astiare-esque musical that's elevated it to one of the most critically acclaimed films of 2016?
Chazelle captures the spirit of old hollywood musicals and releases it into present day Los Angeles. Old Hollywood is where movie musicals first flourished, and though its golden days may be long over, the film has faith that a boy, a girl, a bench and a violet-colored sunset are still capable of working its magic.
As a musical with big numbers, dynamic composition, and an adult feel, La La Land is a boy-meets-girl story with a harsh dash of reality. The story follows the love between an aspiring actress, Mia (Emma Stone), and a struggling musician, Sebastian (Ryan Gosling). They meet in the most uncanny way; he honks his horn at her- she flips him the bird. It takes a decent chunk of time for the duo to get together, they meet, dance around each other, repeat. One night they're singing about how "You're not the type for me… I'd never fall for you." And the next, he's taking her to see Rebel Without a Cause. "City of stars, are you shining for me?" Sings the young couple, until career differences force them to face the harsh reality of keeping a relationship afloat in the midst of their ever-changing lives.
Both stars are so intimately attuned to each others pace that their relationship seems almost natural, not to mention that the duo has starred as a couple in Crazy, Stupid, Love and Gangster Squad. Hardest of all, they make it looks deceptively easy.
Behind the films's quirky comedy and flashy musical songs beats a complex, well-written romance that creeps up your back in the second half of the movie in which Sebastian and Mia's ambitions and relationship become difficult to balance. After you've waltzed across the stars- as our couple do midway through the film in a whirl of beautiful gravity-defying fantasy – the only way forward is down.
Everyone in La La Land is wrestling with ambition. In the movies opening number, "Another Day Of Sun", young hopefuls pour out of brightly colored cars, singing about the cities daunting show-biz heritage, and the grit it takes to make it to the top. The seamless cinematography of the opening song exemplifies Chazelles vision of a modern-day old Hollywood musical; big dance numbers, romantic scenery and a chorus of voices singing hymns to the unnaturally blue Los Angeles sky.
Shooting the musical numbers in what appears to be one, continuous take, Chazelle's shots call upon the smooth fluidity of Alfonso Cuarons Gravity, with colors akin to Wizard of Oz in bright reds, greens, blues, and yellows. Chazelle has a rare capacity to find a scenes underlying rhythm, and hit every beat dead on. A scene in which Mia and Sebastian hold hands in the cinema is a masterclass of building romantic tension, while a decisive conversation in Sebastians apartment, bathed in neon green light, shifts the mood from understanding to hostility so naturally you hardly notice.
Wether La La Lands ending is seen as sad or happy comes down to how much faith you have in happy endings. Either way, it leaves you with tears in your eyes, a song in your heart, and a good six inches of air from the soles of your shoes and the carpet below.
About the Contributor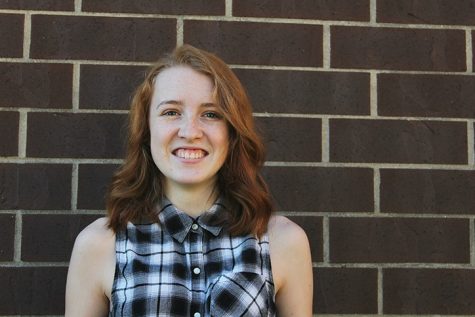 Brooke Willis, Staff Writer
Brooke Willis is a first year senior who spends most of her free time writing too much and playing too many video games. AP style writing kills her because...