Looking forward at life skills
Hang on for a minute...we're trying to find some more stories you might like.
JHS Looking Forward is an organization recently created to help students learn necessary skills not taught in school. The founders, Christine Wolford, Jennifer Palmer and Lisa Noe, are all teachers of the high school. They discovered many students are not knowledgeable in different aspects of life and decided to create activities that will teach students about these activities. On November 20th they held their first meeting since JHS Looking Forward formed. "We are slowly getting the word out about this," Palmer said "It's new, we're just getting on our feet."
Cooking is a skill that many kids need to learn, especially since not all of them get that during school or home lives. "The plan with this one is that we're going to teach kids how to cook a thanksgiving dinner and take it home to their families," Palmer said. "We wanna help kids find themselves, find their skill."
Chad Thoreson, librarian Ruth Thoreson's husband, was brought in to demonstrate how to cut turkeys. Hyvee donated seven turkeys for the activity, in addition to everything that the students used to bake. The salad ingredients donated by Palmer's Deli.
First students learned to make mashed potatoes, then started snicker salads while the potatoes boiled. After finishing the potatoes, they moved on to green bean casserole. Next was pumpkin bars which covered the students in flower. Everyone used recipes that Palmer found as she was preparing the activity.
Thoreson prepared boxes for the students to carry all of the items home for their family. Each student had made their own platters of food to serve for dinner for the night.

About the Writer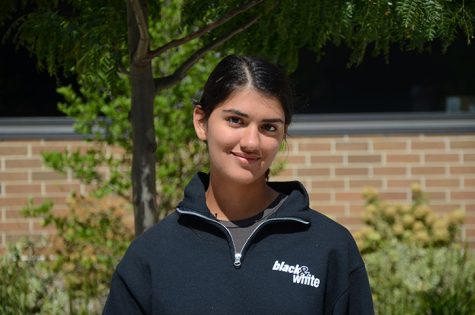 Shabana Gupta, Staff Writer