Mask Mandate Lifted for All Grade Levels
On Monday, November 29, 2021, the school board held both a private and public session regarding the mask mandate.
The initial administrative recommendation was to repeal the mask mandate for students grades 8-12 and to keep a mask mandate for Pre-K-7 through December 23, 2021. The recommendation stated, "This timeframe coincides with the newly available vaccine for students age 5-12 years of age." It noted that the upcoming winter-break would allow time f0r students to get vaccinated if they so choose.  This recommendation excluded a removal of the federal transportation mask mandate. 
Newly elected school board member Clint Evans made a motion to amend the administration's recommendation to instead "Immediately drop the mask mandate for all grade levels including ages 5-12." This was promptly seconded by newly elected board member, Deb Davis. Evans' motion was then later amended to include students in the Johnston Early Education Academy. 
Evans' reasoning for this amendment was to avoid confusion that can come from families with older and younger students. Vice President of the Board Alicia Clevenger agreed with Evans with the inconsistencies of the initial recommendation.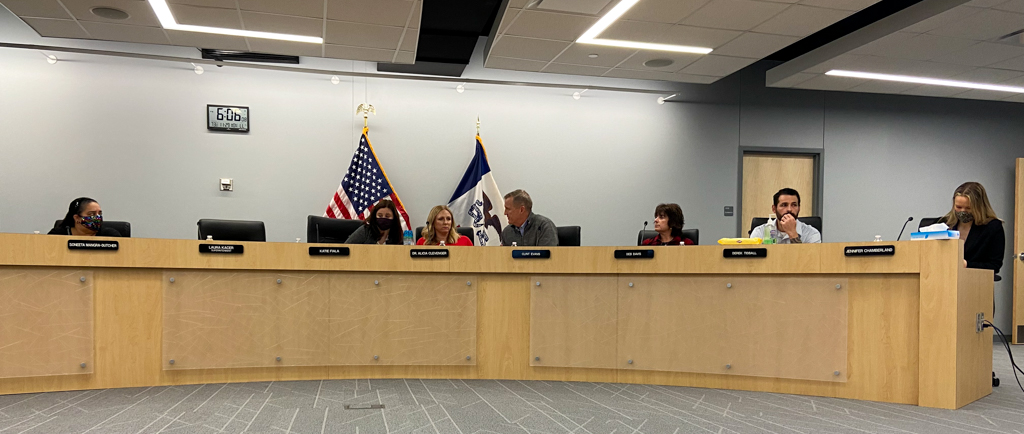 Board President Katie Fiala opposed Evans' amendment, saying, "Vaccine availability is a significant change in circumstances for our students." Soneeta Mangra-Dutcher agreed with Fiala to a degree, saying, "I would like to keep masks on until we can make sure that all kids are safe." 
The board passed the amendment to include all students, Pre-K-12, in their vote on dropping the mask mandate in a vote 4-3.
Following that vote, they moved onto voting on the mask mandate itself. Deb Davis offered her perspective on why she supports dropping the mask mandate. "Liberty provides protection and individual rights. Freedom is something the government grants," Davis said. "Liberty is something we own that can not be taken away.  So, because of this, I am [for] parent choice on masking, to uphold the individual rights of all concerned." 
The board voted to drop the mask mandate immediately in a 4-3 decision, the newly elected board members and Clevenger being the majority.