Men's Soccer Loses in State Semifinal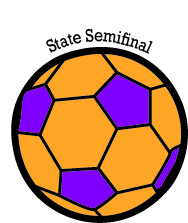 The men's soccer team's season ended one game earlier than they would have liked yesterday, falling victim to a Pleasant Valley upset in the state semifinal.
It was a strong defensive outing for Johnston and goalie TJ Strang '22, but Johnston's offense lacked scoring ability in crucial moments. After a long scoreless stretch, Pleasant Valley scored the game's lone goal with 14 minutes left to play.
Johnston lost 1-0 while Pleasant Valley advances to play top seeded Iowa City West in the 3A state championship.
Johnston's season ended with a strong 16-4 record, something the team will certainly look to build off for next spring. The 2020-21 season brought more success in head coach Jimmy Frizzell's first season at the helm than the team had seen since a 14-5 2015-16 season, a promising sign for the future of the program.