"Moonlight": a devastating and beautiful coming-of-age story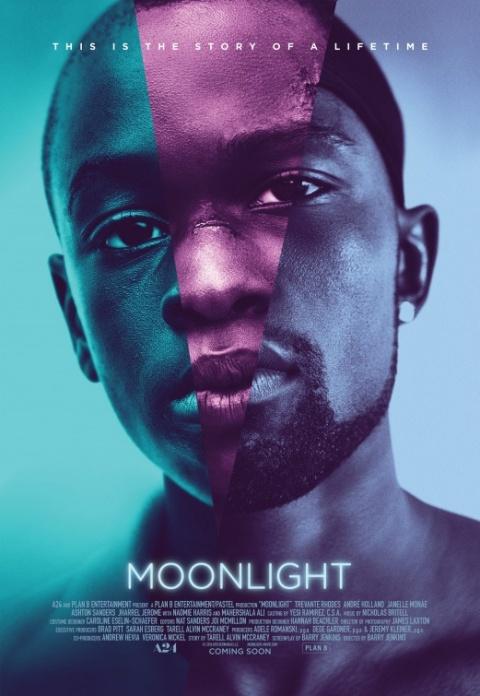 A life shown in three parts, Barry Jenkins' "Moonlight" is a film that is often very emotionally powerful without you even realizing it. It never made me cry or have any big life epiphanies, yet it has stuck in the back of my brain. I am still thinking about and remembering scenes. I am still hearing dialogue. I am still caring for the characters I was introduced to.
It makes me sad that it seems like "Moonlight" will quietly come and go in its theatrical run. Perhaps it is because the main character is a person that society usually tries to smother. Chiron (pronounced Shy-rone) is poor, black and, as he later realizes, gay. Chiron is played by three different actors: Alex Hibbert as a child, Ashton Sanders as a teen, and Trevante Rhodes as an adult.
Each section of the film opens with a title card, "Little", "Chiron" and "Black", respectively. In the first section, we see Chiron, called Little because of his size, when he is about nine. His only friend is a boy his age named Kevin (Jaden Piner). He begins a father-son type relationship with Juan (Mahershala Ali), a drug dealer in his neighborhood in Miami, Florida. Juan finds the boy hiding from bullies, and he feeds him and lets him stay the night at the home of his girlfriend Teresa (singer-turned-actress Janelle Monae).
In a lesser movie, the relationship between Chiron and Juan would be less complicated. Juan would only be using him to pass on knowledge of the drug trade. However, it is very clear that that kind of life is not what Juan wants for this boy. Ali, who I have always known as a background actor, is excellent as Juan, hiding warmth and paternal instinct behind a tough exterior.
As his bond with Juan develops, the bond between Chiron and his single mother Paula (Naomie Harris) begins to disintegrate. Paula becomes a crack addict and becomes a monster towards her son, even when it is clear that she loves him and has regrets. Harris, who filmed her role in only three days, is never anything less than mesmerizing, and is able to make Paula so much more than than the stereotypical abusive mother.
After Chiron makes a discovery about Juan's connection to his mother, the film transitions to Chiron's teen years, which is my favorite segment of the three. Much of this has to do with Sanders' performance as the teenage Chiron, which often broke my heart. What hurt me the most is how close in age Sanders looked to myself. Chiron could easily be a kid I see in the hallway. He could be going through all the pain he goes through in this section of the film and I would never even really know it. Sanders, who is tall and lanky with dark eyes that seem to go for miles, is so believable and vulnerable that I could help but be drawn to him in every scene he was in.
It is in this middle section that Chiron makes discoveries about his sexuality. He is still friends with Kevin (now played by Jharrel Jerome, also great and natural), but their relationship is always teetering on the edge of something more. After a particularly harsh fight with his mother, who is still an addict, Chiron and Kevin sit on the beach, where they eventually kiss. The moment is so tender and lovely that my heart immediately sank, knowing that Chiron's bliss could not last. The scenes that follow, contrasted with the beach scenes both in bright lighting and sudden violence, set the stage for the final segment.
In the final segment, Rhodes takes over the role of Chiron. The adult Chiron is very different from who he was as a teen. The skinny boy is gone, replaced with a muscular, quiet man. At this point, Chiron seems to have followed in Juan's footsteps, having become a drug dealer in Atlanta. He resembles Juan as well, wearing a black rag on his head and driving a nice car. He wears gold fronts on his teeth and pumps iron in the morning. At one point in this third act, Chiron mentions that he has been trying to forget the old version of himself, and it seems that he has been doing that in every imaginable way.
Rhodes as Chiron is an incredibly physical performance. Chiron is so quiet and so within himself now that Rhodes is often left with only reaction shots. The main thread of the story is Chiron having a meeting with an also-grown Kevin (now played by Andre Holland, who was part of the cast of one of my favorite TV shows "The Knick"). Kevin is still living in Miami, has become a cook at a diner, and has been divorced with a young son. Holland gives a very warm and charismatic performance, very much in line with Jerome's in the previous segment. Holland and Rhodes' scenes together are full of unspoken feelings and broken gazes. Their scenes together are among the best in the film, and the final scene which they share is one of the best endings I have seen this year since "The Lobster".
There is so much to love about this film. The script, based on an un-produced play by Tarell Alvin McCraney titled In Moonlight Black Boys Look Blue, which has so many lines of dialogue that turn out to be subtle punches in the gut. The cinematography by James Laxton, who bathes the seedy part of Miami in dark blues and vivid neons. The haunting and beautiful string-heavy score by Nicholas Britell, as well as perfectly chosen contemporary songs like Barbara Lewis' "Hello Stranger". The cast, in which there is never a misstep, to the careful and crafted direction by Jenkins make the film singular and meaningful.
"Moonlight" is easily one of the best films I have seen in 2016. Although Chiron is a character who is not often portrayed in movies, his struggles with his identity and his place in the world are ones that are universal to anyone, be they black or white or anything else.
---
Final Verdict: 10 out of 10
"Moonlight" is currently playing at the Fleur Cinema in Des Moines
Rated R for some sexuality, drug use, brief violence, and language throughout
Director: Barry Jenkins
From a script by Barry Jenkins and story by Tarell Alvin McCraney
Cast: Trevante Rhodes, Ashton Sanders, Alex Hibbert, Mahershala Ali, Naomie Harris, Janelle Monae, Andre Holland, Jharrel Jerome, Jaden Piner, Patrick Decile.
About the Writer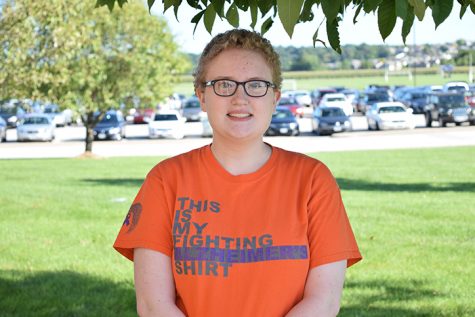 Erin Bockenstedt, Staff Writer
Erin is a senior and a staff member on the Black & White. She likes to watch movies and her favorite is Guardians of the Galaxy. Her favorite TV...