Music can be about more than relationships
"Work" by Rihanna ft. Drake, "PILLOWTALK" by ZAYN, "Me, Myself & I" by G-Eazy ft. Bebe Rexha and "Love Yourself" by Justin Bieber are the current top four songs on Spotify's United States Top 50 list. Three out of the four are about relationships. While "Me, Myself & I" from Rexha holds a clear "take me or leave me" attitude, reading through song lyrics it's clear they don't hold a lot of substance to them, even the prominent electronic instrumentals cannot hide it. After listening for a few minutes I am surprised my brain has not turned into mush from the lack of thought process necessary to interpret what most of the songs suggest, *cough* sex *cough*. Obviously the concept of being in love or inspiration of a broken heart shouldn't be dismissed to it's extinction, however listening about the topic on the radio with almost every song can become repetitive, predictable and ultimately has turned me away from the normal radio. Predictability has probably become the most noticeable factor to me from the general theme, it would be nice to hear a song about life in general make its way to the top charts.
I understand wanting to get away from the world for a little while, popular mind-numbing shows are a good example of this – such as the Gossip Girl fad, which was fine up until I began asking why I was wasting time watching an upscale soap opera. This can relate to the music category above, how for a short amount of time it's entertaining to plug in earbuds blasting Bieber into my ears but one can only take so much about his broken relations with Selena Gomez. Which is why I ask this question: How is the public so infatuated with listening to this common theme on repeat?
So I taking my search to the trusty internet, looking up songs not about love/relationships brings to surface a few links with that in mind, but "the perfect break up songs by Taylor Swift" such as "We Are Never Getting Back Together" still unfortunately pops up. I'm not sure when the relationship game became so prominent in the music world, though it has been around for quite some time because as mentioned above love's "mysterious" ways are a, well, mystery. And naturally we are curious, but there's more to life than these types of relationships. Now walks on the beach and simply singing about random daily tasks like brushing teeth could be cheesy and boring, so not everything about life could go into the mix but what about solitude, our simple existence on this planet, other relationships like family, friends, etc. I don't know if this is going too deep but to me these songs that might actually make us think and become more relatable to not only the average single listener but majority of people.
Blaming songwriters/producers seems like the more logical answer, but they do have to cater to the larger audience to put an artist's names out. Which then just causes me to get angry with songwriters/producers cus screw what the "people" want. So, for this movement to work both parties have to take sacrifices when it comes to the topic of music listened to. For listeners venturing out past the top 100 list will not kill you and though it may seem a bit scary, your ears and brain with thank you. Instead of listening to Fifth Harmony, try listening to The Maine's 2015 album "American Candy" which discusses prevalent issues in society. As for songwriters/producers, it would be nice to hear a few more thoughtful songs on the more mainstream and popular radio stations even if at first the public might respond poorly, someone has to start the change. 
About the Contributor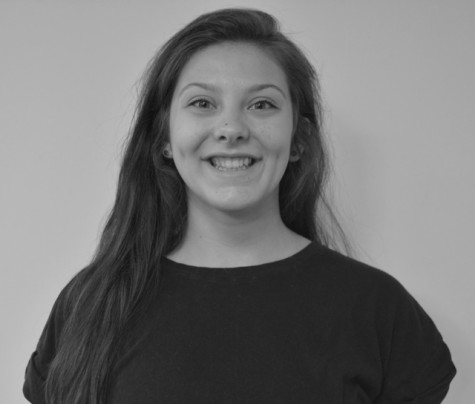 Kate Lichter, Online Editor-in-cheif
Spending most of her senior in the jlab this year, Kate Lichter takes on the title of Online Editor in chief. You can find her taking photos, listening...