New school brings new course
Along with the opening of the new high school, the education department is also introducing a new class called "Blended History." Blended History will be a learning style that is a combination of online and in-class learning that will be offered to students in the 2017-18 school year.
In this class, students will only meet in the classroom on average two times a week. "I like the idea of not having to go to class everyday. It looks fun, but also like if I get behind on my assignments it might be stressful to catch back up," Abby Headington '19 explained.
"
Its not easier, its not harder but the idea would be that students should have a really highly personalized learning experience. "
— Thomas Griffin
In the class, students will be able to be able to determine the time, place and pace of their learning. "The goal of blended learning is to utilize classroom face to face instruction and online collaboration and researching tools to expand the boundaries of traditional instruction," Thomas Griffin, teacher of the course, said.
This class will be offered along with the other original history classes but the class will now be more individualized and project based. Blended history will be offered to juniors-matching the junior requirement for US History.
With students having different preferences on the ways of their learning, the online work will offer them a good alternative.  "I think this way would provide a better, more fulfilling assessment of my knowledge, giving all students a fair shot at a good grade since not everyone learns the same or is great at test taking," Headington said.
With limited time to work on assignments in class, students will have time on their off days to work on out-of-class assignments. Assignments in the class will not vary much from normal classes as students will still be challenged with things like worksheets, projects, and readings.
Students will have the opportunity to test their knowledge through various ways including projects, presentations, and online and in class tests. "We won't have common, whole class 60 question unit tests because of the 60 kids in the course," Griffin said. "They are going to attack that content in a variety of ways, so they will be assessed in a variety of ways."
Some students may prefer the more individualized approach of the class because they learn better visually as opposed to verbally. Learning by watching videos or reading an online book versus having a teacher tell you information for 45 minutes is something that certain students prefer.
Being in the classroom setting may also be distracting for students that have a short attention span, so working at home online would be better for them as there would potentially be less distractions. They will also be able to take breaks in order to get a drink or a snack as needed.
About the Contributor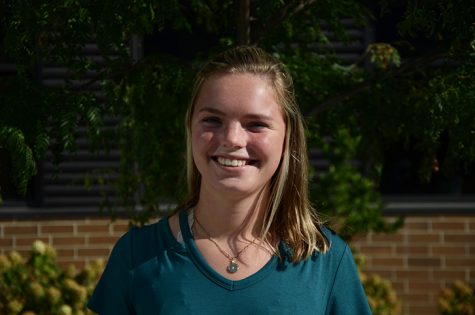 Abby Nichol, Staff Writer
Abby Nichol is a junior who enjoys playing soccer and eating sushi. She is in her first year of Newspaper. If you ever need to find her, she's probably...