New Teachers
October 16, 2019
Every year new teachers are hired. These new teachers come from various paths and have many fun and interesting experiences! This year there are five new teachers, all bringing different backgrounds and ideas to the high school.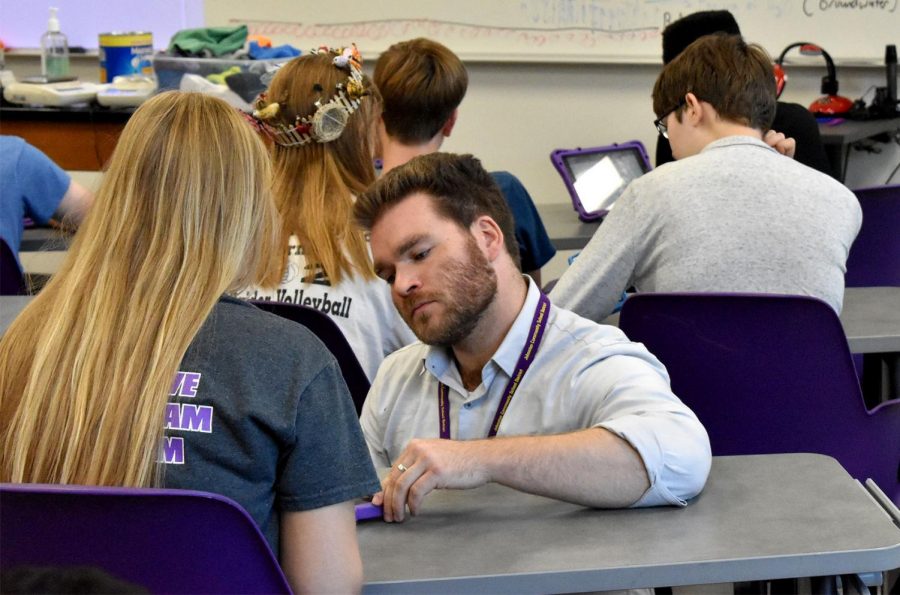 Theodore Westhues
Theodore Westhues came to Johnston from teaching at Ottumwa for the past two years. Westhues, a new chemistry and Forensic Science teacher has joined the district.  "Something that drew me to Johnston was because of the great reputation in the state and among the nation," Westhues said. It boosts students' motivation whenever a new teacher joins the district to share their enthusiasm for learning.
Westhues taught in Ottumwa for three years before moving here; "My wife came back to Iowa state to finish her aerospace engineering degree," Westhues said. "So instead of having two hours between us, I moved and applied to Johnston." In his short time here so far, he's started to enjoy the closeness in the atmosphere among the students and being able to work with many knowledgeable people in teaching and chemistry.
While many teachers predominantly have teaching experience in normal classrooms, Westhues started off teaching in a very different way. "My first teaching job was as a Hapkido instructor," Westhues said. "For me, that has deeply influenced my understanding on how people learn." Hapkido is a form of martial arts that focuses on self defense and grappling. Through his training and teaching he has developed a philosophy. "You don't really know something until it's in your bones. It's not training until you can do it right, it's training so you can't get it wrong," Westhues said. Westhues wants students to understand that instead of striving to do something right, you should strive to perfect it.
Westheus may seem like a normal teacher; but from his experiences of teaching in places outside of a traditional school he has developed a unique sense of teaching. He thinks in a unique way and encourages students to strive for more.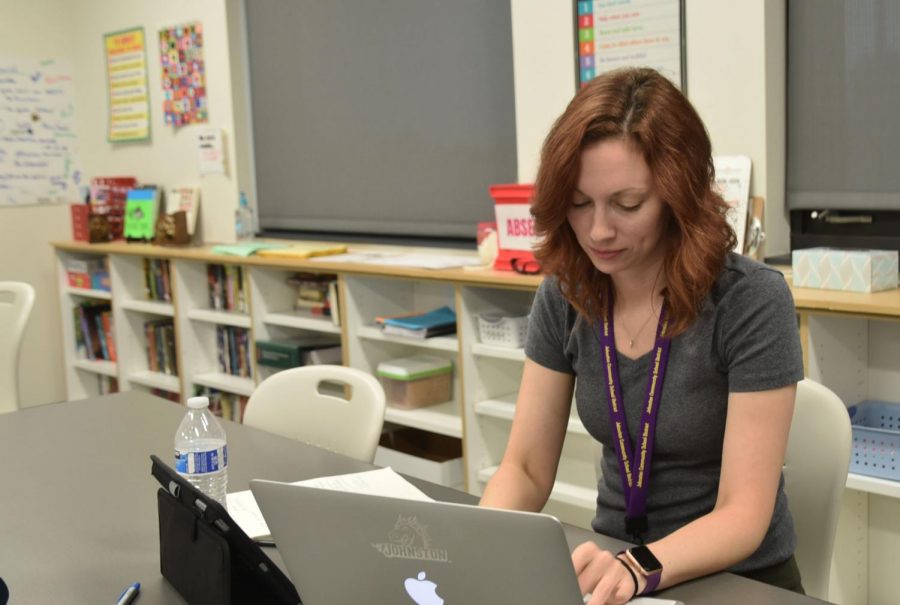 Sarah Love
Sarah Love taught at Holy Trinity and Valley South Woods before coming to the high school. She graduated from Janesvill Parker High School and was on their volleyball team. Love also attended Neuqua Valley High School in Naperville, Illinois. Love got her masters from Concordia University in Wisconsin, and got her undergrad from Drake University.
Love found her love of teaching through a family of teachers. "I come from a family of teachers," Love said. "My grandmother was a PE and health teacher, my mother is a teacher for the state of Illinois and my sister started in the teaching field and then moved to more of the curriculum development side of it." Love also enjoys teaching for other reasons as well. "It's kinda always been my passion, my exposure," Love said. "I really love working with kids. I've loved making those connections, not necessarily the curriculum." 
The beginning of this school year has gone better then past years for Love. "This has been the best start of school year I've had in my seven years of teaching," Love said. Love wants her students to know that they are her focus. She is prioritizing her students and building connections. "I am always here I'm always available, you guys are my priority, doesn't matter about the emails I get from parents or anything else I wanna connect with the students on whatever level I can to improve your experience but also your future," Love said.
Love's passion for volleyball has stemmed from before  high school. Love started when she was in fourth and fifth grade, as she got older was apart of a more competitive traveling team. While traveling Love met many people, and was left to make her own decisions. Love had to  figure out how to manage with minimum contact home. "The opportunities I had was meeting new people seeing a variety of cultures especially traveling to larger cities," Love said. 
Love's senior year of highschool she suffered a injury, one that she credits for ending her competitive career. "I got injured my senior year of highschool, I tore my MCL. I didn't want to have surgery, didn't want to do anything. Kind of like my career ending there for playing competitively," Love said. 
Despite her unfortunate injury, Love's passion for volleyball lives on! Love has coached for Dowling Catholic Volleyball Club. Working with their 6th garde group. Love, being on a competitive team for many years, had to adjest to the not winning constantly with her current team, "I used to be really competitive and always had to win and that is now switched to let's have fun let's develop the skill, let's enjoy ourselves as a posed to the stress of we have to win every match because realistically that doesn't happen."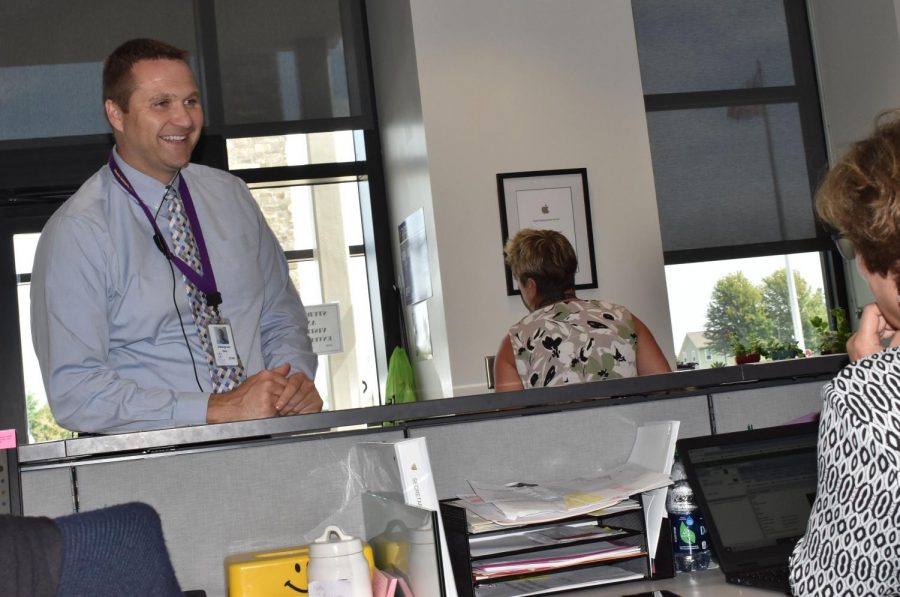 Nate  Zittergruen
Nate Zittergruen went to Valley High School and was captain of the football team and swim team. He also participated in student leadership groups. Zittergruen got his undergrad, masters and specialist degree from Drake University. First, he majored in Biology and Organic Chemistry, then he changed his major to business, Zittergruen graduated with a general business and secondary education degree.
Zittergruen worked with kids in high school and college, that's how he found his love for teaching and working with children. "I always worked at swimming pools in the summer time starting in high school through college. Started teaching swim lessons and stuff like that and I coached some youth sports and just knew I enjoyed teaching," said Zittergruen. 
Before coming to JHS he worked with the Waukee Community School District and before that he worked at Johnson Middle school. As Associate Principal, Zittergruen has many jobs,  from working with students and staff to doing logistical things behind the scenes. Mr.Kline, Associcate  princapal, and Zittergruen  split the alphabet in half, as far as anything student related. "So any student L-Z can come to me for anything, whether  it be academic related out side if school related. Any conflicts with other students inside outside of school," Zittergruen said. "We the three principals have different departments that we divide up as far as teachers we work with, I work with social studies, math, special ed, and the business department," Zittergruen said
"I also do kinda a lot of scheduling, the counselors move kids schedules around and that kinda stuff, I'm the one that builds all the classes and sections behind the scenes." Zitterguen is looking forward to building relationships and making sure student and staff know that he is available.
Being a leader is one of Zittergren best attributes, "I feel like leadership is something that can be developed at a young age for me I think it came from participation in activities, having good role models," Zittergruen said.
Zittergruen also has a great quality for rising to many ocasions and being great in urgent situations. "You think of the stuff out there about how people respond in a situation, some people freeze, some people fight, some people flight. I've always been one that will step up and take things on," Zittergruen said. Zittergruen has never been good at sitting back and letting things happen he's very hands on and ready to help and lead in anyway he can. 
Zittergruen aslo coaches sports teams that his three kinds are on. For each team he has three main rules, "I have thre rules for the teams I coach. Do your best, have fun , and be a good listener, and what I mean by that is be coachable." these are the rules Zittergruen also applys here. 
Zittergreun's advice for being a good leader is to lead by actions. "You can be a vocal leader or lead by your actions, and actions are powerful things. So modeling expectations or how I want other people to treat people," said Zittergruen. But he also stressed that being a vocal leader is just as important.  "Leading by examples is just as important as leading vocally."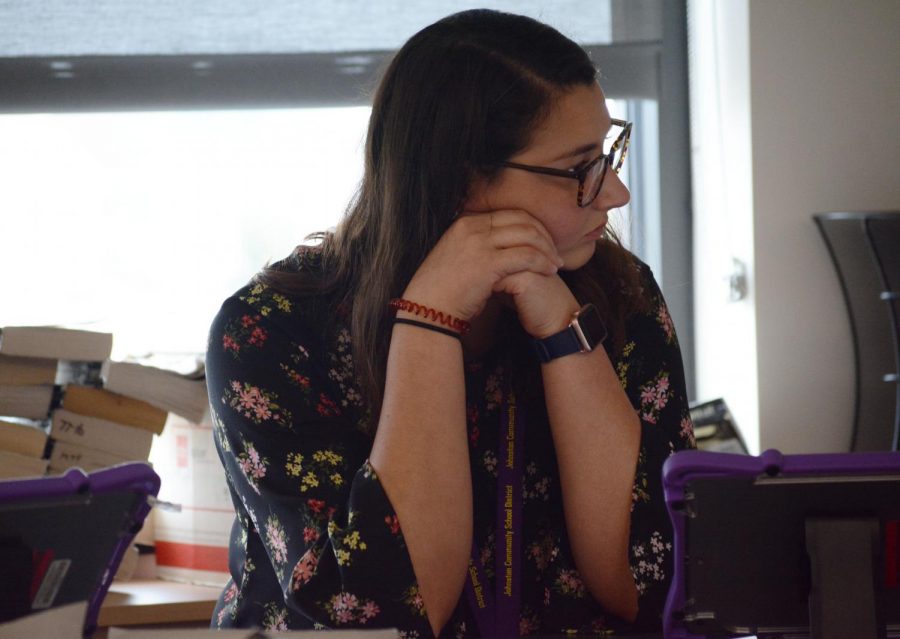 Christina Palmer
Christina Palmer worked as a teacher in Prairie City Monroe High school (PCMHS) before coming here. There are about 350 total kids at that high school. Compared to the 1900 students at JHS, this is a big change for her. Palmer attended East High School and was on their soccer team and practiced with the track team. Palmer attended Grandview University, first majoring in Photo Journalism then changed her major to become a teacher.
Palmer teaches Integrated Language Arts, and Teen in the World. Palmer likes English because she loves how it allows for a story to be told. "In English class, everyone has a story to tell and this is the class where you can do that," Palmer said  "Being somebody who makes a difference is really what inspired me to be a teacher."
Palmer has many goals for the year, one of those goals includes making students feel comfortable, "Ultimately I just want students to feel safe when they are in my classroom," Palmer said. "I also want them to feel comfortable coming to me with any sort of questions or concerns, even if it's not about school." Teachers are striving to make connections with students and Palmer is expanding that idea to a much larger level.
One of Palmers favorite memories is when she went skydiving for her 25th Birthday in August of 2016, and how it changed her life. "It changed my life for a variety of reasons," Palmer said. "I mean I've never been really one to live off the edge, but it was an exhilarating experience that I got to be fully present for, and for me that really taught me to be present in the moment."
Along with learning to be present in the moment, she also got a new perspective on the world. "I literally got a new perspective on things and I was able to really look at the world in a much different way and appreciate it," Palmer said.
Skydiving has helped her in her teaching by giving her a great example to share with her students. "If you think about skydiving it very much like the plot diagram," Palmer said. "You start on the ground and then you slowly rise up into the air until the big moment when you have to make that choice and you drop, you fall, and everything that comes after it is how the story falls and how everything goes into place, and by the end of it, you're left with this experience that you can look back on and say, 'Wow I did that!'"
Learning to trust others and put her life and faith in others' hands is another important skill she learned from her whole experience. "Learning to trust others, especially those who have put in the work and time to become experts is important and hard to do," Palmer said. "But there's kind of a point where it's no longer in your control."
Erik Dominguez
Erik Dominguez is a new teacher who has recently arrived at Johnston. "As soon as I arrived, and even before so, even I had connections here," Dominguez said. "Johnston has a long reputation of high standards and excellence which was a major factor."
Though Dominguez may be a new teacher to the high school, he isn't new to teaching. He has had years of experience, both around the United States and in Iowa. He isn't intimidated by the sea of new faces and welcomes the unique classes that he is able to teach.
Dominguez has had plenty of teaching experience. "This is my 17 year teaching," Dominguez said. "I've taught in Arizona and Waukee as a Spanish teacher."
While Johnston may be a large school, he has enjoyed some of the systems that have been implemented here "This is the first school I've been to that has one to one technology and I see its advantages, especially in efficiency," Dominguez said.
He also points out a large difference between the schools he has been to and here; there is a large emphasis on connections. "The encouragement to connect with students has been great," Dominguez said. "Staff members greeting students at the doors, conversations on connecting with students, which is something I've never seen on an institutional level."
Dominguez has enjoyed the advantages of freedom in choices. "Sophomores take ILA, but juniors and seniors have thematic options for literature classes," Dominguez said. With these advantages, there are struggles. "I've been pretty honest with my classes," Dominguez said. "There's a lot of trial and error; I'm trying to find out what works best for me, and what works best for them." He also strives to make his class unique and engaging. "You may see me in the halls in strange clothes," Dominguez said. "I always strive to make class entertaing. Brains crave novelty, and I strive to give students that at least once a week."
While Dominguez may be a new teacher, he has learned to adapt and enbrace the culture of the school. Dominguez is constantly seeking for ways to become a better teacher for all of his classes, tailoring how he teaches for each group of students, and embodying the movement towards flexibility and personalization for the student population.