Robotics team kicks off season
The Des Moines Metro Robotics team, team ASAP, placed 15th at the first Robotics Competition in Kansas City, MO Oct. 29. This was the first competition of the season for the Robotics team.
The top eight teams from the first round are then chosen to compete in the elimination levels. Even though they placed 15th, they were still chosen to go to the elimination rounds, as some of the teams that placed ahead of them dropped out.
While the expectations were a little higher, the team is still happy with the result."It was really an off-season event to help get experience for newer members," Dheepak Naluri '17 said.
The first Robotics Competition is one of the largest robotics competition in the central United States, attracting many teams from all over the Midwest.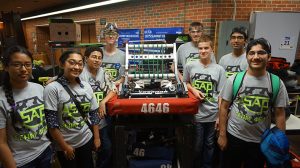 Before the competition, the teams are given six weeks to build a robot using various parts and mechanisms. They get to showcase their robots at the big event. ASAP has 10 Johnston students on team.
While the team is made up of a handful of Johnston teens, robotics is not technically a school-sponsored event. It is made up of high schools from all over the metro, like Roosevelt, Urbandale, Hoover, Dallas Center-Grimes and teens that are homeschooled.
The robotics team meets on Mondays at the Ankeny DMACC campus. At meetings, the team discusses varies things related to their project and meets with their adult advisors who can recommend things and help give the team ideas.
ASAP gets the money to do robotics through fundraising and corporate sponsorships. Currently their biggest sponsor is John Deere, which provides them with over $5,000.
Even though ASAP has over 25 members, they are always are looking for people who are interesting in learning more about the program. "It is a great way to learn and gain experience in technology, and it is also really fun both to build the robot and to see it compete," Afshan Chandani '17 said. "My favorite thing about robotics is seeing ideas you have in your head become a full size machine that actually works and is competitive at competitions."