Students guest-star in JPD video
Students got a surprise before school even started. Parents told their students about a video posted to Facebook.
Seven people answered the plea for students to star in a video with the district's SROs. The video showcased two Johnston Police Department officers lip syncing in the high school auditorium.
On August 22, the Johnston Police Department released the video starring Officer James Slack and Officer Zach Grandon lip syncing to the song "Soul Man" by the Blues Brothers, with students dancing in the background. The seven students were Colby Svestka '20, Trinity Olson '21, Fernando and Eduardo Teixeira '21, Riley Anderson '21, Nic Zimmerman '21, and Sam Shanks '21.
The filming of the JPD video took place Aug. 20, over the course of three hours starting at 8:30 and ending around noon. The JPD choose to wait to join in on the nationwide trend because they wanted to reeve up excitement for the start of the school year.
Police officers have partaken in Lip Sync Battle Videos, as a way to make themselves seem more approachable and kind to their community. Lip Sync Battles have become a common competition to participate in, due to the show "Lip Sync Battle" featuring LL Cool J and Chrissy Teigen, which shows celebrities competing against each other by lip syncing to popular songs.
The JPD recruited students through an email sent Aug. 16, sent through secretary Terri Spencer and promoted by Hannah Ryan, one of the choir directors. "They had many boxes of donuts for seven kids, it's safe to say they were expecting a larger outcome," Eduardo Teixeira  said. 
Some of the students who participated did so at their friend's request. They believed it would be a fun experience as a group and would just be a chance to spend time together. "I got the email and I was really bored, so I dragged some of my friends into doing it," Zimmerman said.
Parents also pushed some of the participants to attend because they thought the experience would be worth it. "My dad was wondering if I wanted to do something 'fun' on Monday," Olson said.
However, the students who participated experienced exactly what the original officers wanted the community to. "You see [Officer Slack] in school and you kind of acknowledge him, but you don't really know him as a person and I thought being in that video helped me see another side of him and trust him," Svestka said.
 Participants agreed that they felt more comfortable with the SRO's now that they had seen a less serious side of them, making them more approachable. "I felt much closer to the cop who walks around our school, he is actually my friend now because of the Lip Sync Battle," Fernando Teixeira said.
JPD declined to comment.
About the Contributor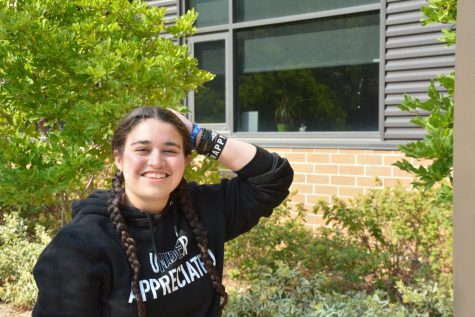 Marandah Mangra-Dutcher, Editor-in-Chief
Marandah Mangra-Dutcher is in her final year on the newspaper staff. She is in charge, and hoping everything will stay intact by the end of the year. Everything...