Teachers spend day as students
Sitting in the middle of a history class, teacher Kristi Miller tries to engage in the group work assigned to the other students in the class. Sue Cline, Jeremy Yenger, Sarah Wessling and Miller were four teachers who each received a schedule to follow for a day. The classes were based on what type the teacher was most familiar with. "Ms. (Sue) Cline, who teaches ELP and AP World Studies, wanted to see the school day through the lens of a typical AP student." Jill Versteeg, one of the coordinators and an instructional coach, said.
The idea for the activity happened during a Dragon Demo Day and was thought up by Julie Kosman. Dragon Demo Days are a day where teachers go around and study what other teachers are doing in class. Kosman had the chance to attend two classes back to back and started thinking about how many shifts in thinking students go through per a class. "She had the realization that our kids have to shift their thinking [in five minutes] and in those five minutes your rushing across the school," Versteeg said. "It was that idea of how quickly are they able to get into the groove of the class."
"
I tried to be as close to a real student as I could be,"
— Kristi Miller
The teachers wanted to see what a typical day was for students. "It was interesting to see the logistics for trying to get from one side of the building to the other. I tried to be as close to a real student as I could be," Miller said.
The activity was also a way to see how other teachers are going about students' learning. "When you're a teacher you see things a certain way or you get used to your own routine and how your own day goes," Miller said. "We're always trying to get new ideas from other teachers and see things that are working well for students."
After the exercise the four teachers held a panel to talk about what they saw and learned. "They talked about student engagement in class and how easy it was for them to be engaged in the work," Versteeg said. "All of them took something back into their own classrooms whether it's something they might try [or] something they might be more aware of in their classroom."
They fielded questions from other teachers talking about what they had seen in both the teaching and students. "They talked about instructional shifts that happened in the class period and if we're having out kids shift five or six times in the class that could be a lot. It doesn't give kids time to [digest] what they're learning," Versteeg said.
"I compared my high school experience to the one that I had recently and I had the same classes in high school but these were all better versions of what I had." Miller said. Versteeg and Kosman are planning more days for other teachers to participate in.
About the Contributor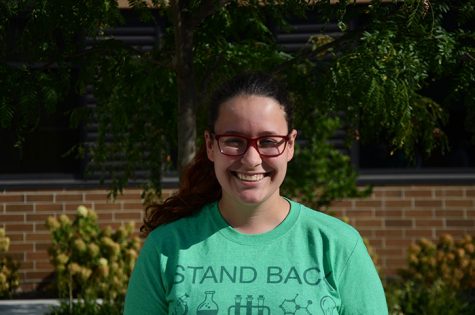 Molly Hauser, Staff Writer
Molly Hauser is a senior and this is her third year on the Black and White. She likes alternative music, Netflix and anime/manga. She also can't wait for...