The "Guardians of the Galaxy" return for more out-of-this-world fun in "Vol. 2"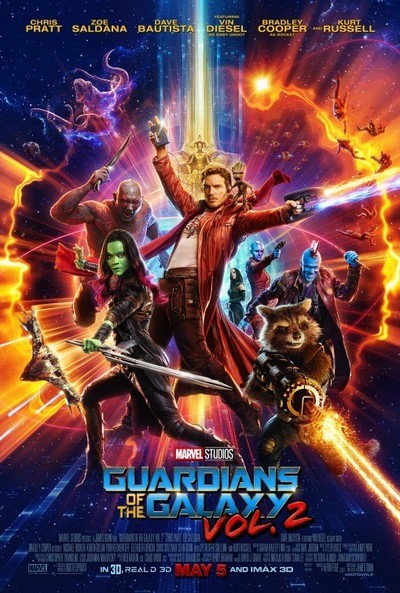 The thing that sets the "Guardians of the Galaxy" apart from the "Avengers" team is the fact that the Guardians feel like an actual family. They argue, like any other family, but there are moments of affection and tenderness between them to balance that out, something the "Avengers" films lack. The Avengers just argue and I never get the sense that they spend any time together when they aren't fighting crime. The Guardians feel like a real team made of real people, something that goes a long way.
After a brief prologue taking place in 1980, we find the Guardians working to help the Sovereign race, golden beings lead by Ayesha (Elizabeth Debicki), defeat a monster in exchange for Gamora's (Zoe Saldana) adopted sister Nebula (Karen Gillan). After Rocket (voice of Bradley Cooper) steals special batteries from the Sovereigns, the Guardians become fugitives. The Sovereign ships chasing after them are destroyed by Ego (Kurt Russell), who reveals himself to be Peter Quill's (Chris Pratt) long-lost father. Without spoiling, Peter becomes torn between his new makeshift family with the Guardians and his biological one.
Director James Gunn, who also directed the first film, knows how to make his films more visually interesting than most Marvel directors, who keep everything in muted tones. Gunn bathes his galaxy in bright, beautiful colors and comes up with really lovely cinematography as a result. As well, Gunn is the only credited writer on the screenplay, making "Guardians" a singular vision rather than the product of suits in a boardroom. He clearly loves these characters and fleshes them all out, even supporting players like Nebula and Yondu (Michael Rooker).
The cast is still in top form as well. Pratt, although somewhat pigeonholed into the archetype of Handsome Rogue in most of his movies, is charming as always and gets to do more emotional heavy-lifting this time around as Star-Lord. Saldana brings a lovely mixture of pathos and logos to Gamora, and I enjoy that she is not as sexualized this time and has a practical outfit. Dave Bautista, returning as the buff Drax, is wonderful, and I am always impressed by the sight of a wrestler-turned-actor who can actually, you know, act. Cooper brings a lot of depth to his voice acting as Rocket when he could just as easily phoned it in. Russell, making a bit of a comeback with this and the "Fast & Furious" movies, brings lots of swagger as well as paternal warmth to Ego, a part that could be very thankless in another actor's hands.
This installment is much more character driven than the first, as the Guardians and those associated with them are in one spot for most of the film, and Gunn chooses to focus on the interactions and relationships between his characters rather than any planet-hopping. While I enjoyed this, as I have a great affection for these characters, others may find it boring. As well, some developments in characters and the plot happened a little too abruptly for my liking, such as reveal regarding the fate of Quill's mother and Gamora's relationship with Nebula.
Overall, this is a lovely Marvel sequel, especially when compared to something like "Thor: The Dark World" and "Age of Ultron". Although not a complex masterpiece, "Guardians of the Galaxy Vol. 2" reunites you with characters that you actually want to spend time with in a fun and colorful universe. I am looking forward to the inevitable "Vol. 3".
One Last Thing: I am afraid that this will be my last review for the Black & White. Over the past three and a half years, I have met great people, wrote great pieces, and seen great movies. I am forever grateful for my time on this paper and the friends I have made as a result. As I move on, I will carry my time on the Black & White with me for years to come. Thank you for reading and in the words of Roger Ebert, I'll see you at the movies.
---
Final Verdict: 8.5 out of 10
Rated PG-13 for sequences of sci-fi action and violence, language, and brief suggestive content.
Director: James Gunn
Cast: Chris Pratt, Zoe Saldana, Dave Bautista, Bradley Cooper, Vin Diesel, Karen Gillan, Michael Rooker, Kurt Russell, Pom Klementieff, Elizabeth Debicki.
About the Contributor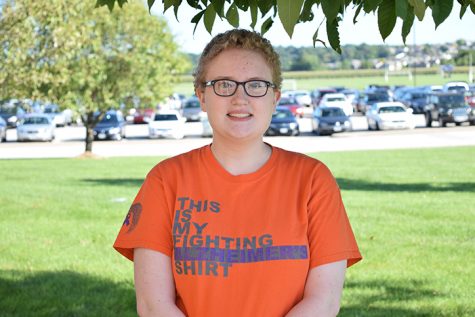 Erin Bockenstedt, Staff Writer
Erin is a senior and a staff member on the Black & White. She likes to watch movies and her favorite is Guardians of the Galaxy. Her favorite TV...