Track team places sixth at Ames Invitational
The girls varsity track team placed sixth with 86.5 points at the Ames High School Jim Duea Invitational April 15. The junior varsity team placed second behind Waukee with 107.5 points.
The varsity 4×800 meter relay team had an unique start to their race. The first runners of the relay team had to restart the race after completing the first 150 meters. "I think the timing system didn't start, and by the time that they got that message down to the starter they had already started the race," distance track coach Pat Hennes said. "I've never seem that happen before."
Sophomore Julia Beswick was Johnston's leading runner. "I wasn't mad but it was kind of annoying," Beswick said. "I feel like they should have done it right the first time."
Hennes does not believe that the false start hindered the girls racing. "They took their time getting back to the starting line, and I think the only hindrance it could have would be psychological," Hennes said. "I don't think it would be a physical hindrance; it actually might be good because (the girls) might get rid of the nerves."
Members of the 4×800 team also included senior Kenzie Foldes and juniors Sandra Kromminga and Jordyn Kleve. The team finished third behind Des Moines Roosevelt and Ames with a time of 10:06.87.
Sophomore Sara Ness won the varsity 3000 meter run with a time of 10:32.42, and freshman Emily Poss won the junior varsity 3000 meter run with a time of 11:09.20. Other highlights of the meet included the 4×200 meter relay winning the varsity heat with a time of 1:46.74. Team members included senior Ronnaja Ayers, juniors Maddie MacGregor and Kristen Stucker and freshman Elle Brown. The junior varsity distance medley relay won as well. Junior Sandra Kromminga won the junior varsity 800 meter run with a time of 2:32.80.
"The big highlight for me was that we were really out there competing, being aggressive and not waiting until the last 50 meters to pass girls," Hennes said. "It seemed like race after race Johnston athletes were going for it."
About the Writer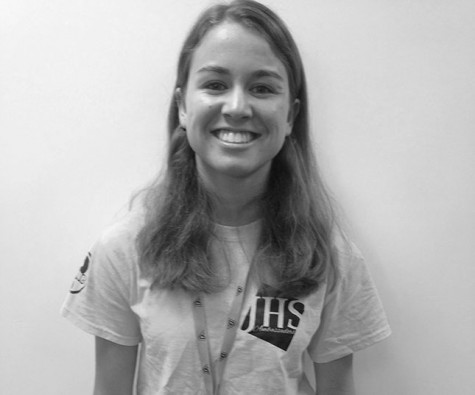 Anne Rogers, Editor-in-chief
Anne Rogers is a senior who has been on the newspaper staff since freshman year. Her other activities include running on the cross country and track team,...