Track team sets goals for state
The boys and girls track teams qualified in a number of events for the state championships May 22-24.
On the girls' side individual qualifiers include freshman Ellie Roquet and senior Maddy Woodfine in the high jump, sophomore Maddy Bradley in the 800 meter run, junior Jordyn Kleve and sophomore Anna Toot in the 1500 meter run and Kleve and sophomore Sara Ness in the 3000 meter run. Five relays qualified as well. Senior Ronnoja Ayers, juniors Maddie MacGregor and Kristen Stucker and freshman Elle Brown will be running the 4×200 meter relay. Ayers, Bradley, Stucker and Brown will be running in the 4×400 meter relay. Toot, Bradley, senior Kenzie Foldes and Kleve will be running the 4×800 meter relay. In the sprint medley, Ayers, sophomore Sage Hassel, Stucker and Brown will represent Johnston. Ayers, Brown, Stucker and Kleve will be running in the distance medley.
"I want to help my team do well at state, even if we don't get the times or place we want in our events, although I would love for our team to win every heat and for everyone to give it their all," Brown said.
The boys individual qualifiers include junior Jared Seay in the 200 meter dash and high jump, junior Jack Bergstrom in the 400 meter dash and 400 meter hurdles, juniors Ben Renner and Josh Borwick in the 800 meter run, senior Connor Westlake and sophomore Drew Hershey in the 1600 meter run and 3200 meter run, junior Hezekiah Applegate in the shotput, senior Connor White in the discus and junior Luke Davis in the long jump. Six relay teams qualified as well. In the 4×100 meter relay, seniors Anthony Kpedeh and Camden Van Brocklin, Davis and Seay will be running. Kpedeh, Van Brocklin, Davis and Seay will also be running in the 4×200 meter relay. Freshman Grant Gossling, junior Cole Balmer, freshman Gannon Svestka and sophomore Braden Cooper will be running in the 4×400 meter relay. In the distance medley relay, Kpedeh, Van Brocklin, junior Matt Tanner and senior Adam Johanson will be running. Cooper, Johanson, Renner and Borwick will also be competing in the 4×800 meter relay. Finally, in the shuttle hurdle relay, Bergstrom, Davis and freshmen Carter Wunsch and Blake Bergstrom will be competing.
Johnston is one of two teams who have qualified 16 events or more for the state meet. The other is Waukee. "I want the team to compete at the highest level every day along with competing with Waukee, Iowa City West Cedar Rapids Kennedy, Linn Marr and Cedar Falls for every event," head boys coach Patrick Mattingly said.
He hopes the team can place in the top three in the state.
"Overall, this is one of the strongest teams we have had top to bottom as a collective group," Mattingly said. " We have some seniors in some events that have helped the younger athletes learn and grow.  However, we have a strong collective group for next year.  We hope to continue the success we have had this year into next year."
About the Writer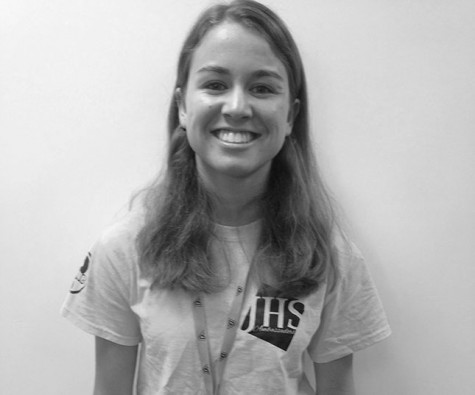 Anne Rogers, Editor-in-chief
Anne Rogers is a senior who has been on the newspaper staff since freshman year. Her other activities include running on the cross country and track team,...