Senior Kayla Dings had never shot a bow and arrow before going to archery club on Dec. 4.
"I made it on the target, which is sort of impressive," Dings said. "The people there just keep telling me what to improve on."
Dings is just one of many new members. This year, the archery club doubled its membership. Over 60 people showed interest at the informational meeting on Nov. 29, compared to last year's membership of 20 to 30.
"Beason must have done some great PR work," senior Olivia Guns said. "I hear kids talking in the hallway about how interested they are in joining."
With so many new people, the club had a need for more bows and targets. Fortunately, archery club adviser Dave Beason was already planning to order new equipment this year.
"We've added some bows to our fleet," Beason said.
The club also has more help this year, as Doug and Kathy Trail, parents of alum and former archery club member Sammi Trail, are mentoring students alongside Beason. Their youngest daughter, freshman Sarah Trail, is currently in the club.
"I'm really grateful to have the help this year," Guns said, "especially with such a big group."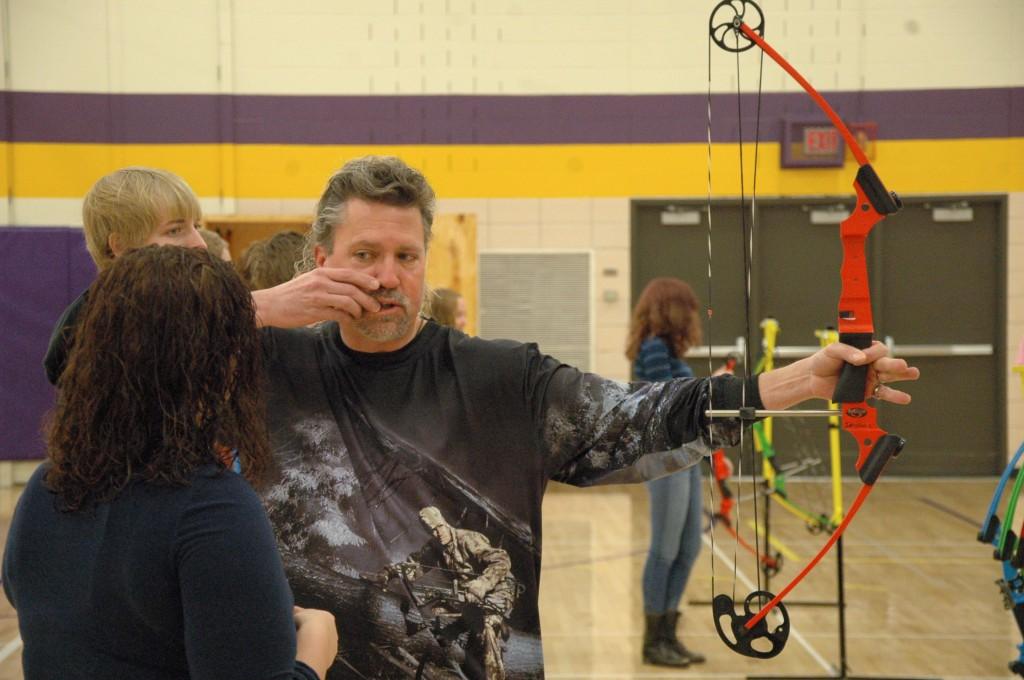 The Hunger Games effect
There has been some speculation that the recent Hunger Games phenomenon may have led more people to consider doing archery. Katniss Everdeen, the leading character in Suzanne Collins's Hunger Games trilogy, is noted for being a very skilled archer.
"You see these sophomores coming in, and they just happen to braid their hair down the back," Dings said. "It gets pretty bad."
Guns agrees. "I think that a lot of people want to be Katniss," Guns said. "I really do think that that has something to do with it. If that's what gets you interested, that's great."
It seems, though, that the increase is mostly due to the club spreading the word.
"This year Mr. Beason advertised the club more than he did in past years, which lead to the big turnout," junior Lauren Quinn said. "But I wouldn't be surprised if some students came to be like Katniss."
An informal club

The archery club is seven years old, having been to every state meet. Every year, Johnston hosts a competition, attends other regional meets and goes to the state competition at the Iowa Events Center. Archers are not required to compete if they so choose. The school can take up to 24 competitors to each event.
"We work as a team, but technically it is a club," Guns said. "It's not as big of a commitment as say, the football team. You don't have to go to every practice. If you want to be serious about it, you need to practice, but it's easy to stop by occasionally if you just want to try it."
That club atmosphere seems to attract archers like Dings. "I don't feel obligated to come every time," said Dings. "It's more of a looser club."
Archery club meets at 7 a.m. every morning except Wednesday, in the small gym.
Johnston is hosting the archery portion of the Iowa Games on Feb. 9.
The state meet is on March 2 at the Iowa Events Center.