Brain Trust Weekly Update 2.0: Week 2
Week two of the fantasy football season was a very interesting one with a wide range of big performances, injuries, and game changing plays.
Before week two went underway, many teams made changes to their teams using trades and the waiver wire.
RIP RIP NEWCOMB easily made the most moves after a poor outing in week one. He dropped Brandon Cooks, Eagles D/ST, Joe Mixon, Kerryon Johnson, and Devonta Freeman. He added Alshon Jeffery, Patriots D/ST, Mark Ingram II, Tom Brady, and DeSean Jackson.
RIP NEWCOMB made three moves to prepare for week two. He dropped Kyler Murray, Carson Wentz, Saints D/ST, and Melvin Gordon. He replaced them with Austin Ekeler, Vikings D/ST, Dak Prescott, and Marlon Mack.
Sack Wackers made three changes to his team this past week. He dropped Philip Lindsay, Aaron Jones, and Calvin Ridley. In order to replace them he got Marquez Valdes-Scantling.
Shake "N" Bake, who had the best performance in week one, made the least move with only one. He dropped the Chargers D/ST and picked up Marquise "Hollywood" Brown.
There was one trade this week. It was between RIP NEWCOMB and RIP RIP NEWCOMB. RIP NEWCOMB traded Leonard Fournette for Mike Evans.
Week Two Matchups
Week two started Thursday night with Carolina playing Tampa Bay. This game featured stand-out running back Christian McCaffery (RIP RIP NEWCOMB). McCaffery was projected 25.1 points this week but put up a measly 7.3 points. Sunday came around and brought tons of great performances from the players. Lamar Jackson (Shake "N" Bake) popped off again as he scored 30 points. Jackson is the number one fantasy player this year posting two straight 30+ point performances. Demarcus Robinson, a mostly unknown wide receiver for the Kansas City Chiefs, scored the most fantasy points this week with 35.2. Robinson is not yet on a team, but if he puts up numbers even somewhere close to this week he should find himself on a roster sooner rather than later. The Patriots D/ST scored 35 points this week as they played the Dolphins. The Patriots D/ST may be on a team now but this outstanding performance more likely cements the idea to start the D/ST for whoever plays the tanking Dolphins. Patrick Mahomes was the 3rd highest scorer putting up 31.6 points.
RIP RIP NEWCOMB vs Shake "N" Bake
Shake "N" Bake was rolling after their 161 point performance in week one. Week two started out the same way with four starters getting above their projected total and one getting .5 points under their total. The other four, however, brought this team back to down to Earth and gave very poor performances, three of whom scored four or less. His bench did about average, except for Chris Carson who scored 6 points less than projected. He played the best at each position except for wide receiver where Antonio Brown scored three more points than JuJu Smith-Schuster. This wouldn't have been enough to get the win and stay undefeated. The top performer this week was Lamar Jackson with 30.9 points. Julio Jones also scored a lot this week, with a total of 27.6 points, which is great for Shake "N" Bake after the bad showing from Jones that made him look like a bust.
RIP RIP NEWCOMB had an outstanding bounce-back week, by putting up the most points in the league. Despite having the most points RIP RIP NEWCOMB had five out of nine starters score under the projection. The new additions heading into week two were the biggest contributors. Tom Brady and Patriots D/ST scored nearly 60 points combined. Patriots D/ST had arguably the best fantasy football performance for a D/ST in recent history. These two players picked up the slack and more as they carried RIP RIP NEWCOMB to his first win. If there is any place to be worried though, it is the depth of this team. For the second straight week, this team's bench was lacking. Five players scored less than 10 points with three of them dropping a zero in the points column. Nonetheless, they walked out of week two with a big win and some confidence heading into next week.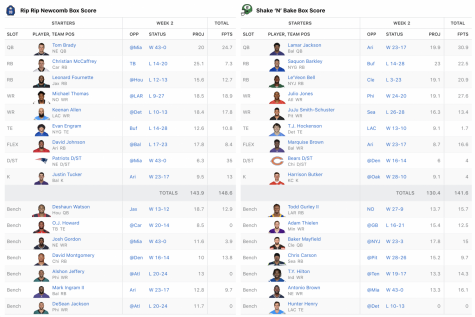 Sack Wackers vs RIP NEWCOMB
RIP NEWCOMB had a great comeback week after getting blown out in week one. The two biggest contributors were Odell Beckham Jr. and Dalvin Cook with 28.1 points each. Three other players were able to get achieve or exceed their projected points. Three of the four players that did not get their projected amount scored within three points of that total. Austin Ekeler and Cooper Kupp lead the way on the bench with 23.3 and 17.6 points, but may not see much time in the starting lineup due to a very talented running and receiving corps. Keep in mind, Tyreek Hill is out right now too, once he gets back there will be some tough decisions with who to start. This is a good problem and one that no other team in the league has at both positions. They still needed a comeback to win though, heading into Monday night down 15 points. Odell Beckham Jr showed up to play taking the Browns offense under his control. He dominated and got RIP NEWCOMB their first win of the season.
Sack Wackers suffered a loss and scored the least points in the league, but he had a great showing this week. Pat Mahomes dropped 31.6 points and Travis Kelce got 23.7 points. These two could be what carries Sack Wackers to a great season since whenever one does good the other usually does good two. Five of the starters reached their projected totals this week, but the other four couldn't break double digits. This proved to be the reason for the week two loss. The bench had a great showing with John Ross III scoring 21.2, and Nick Chubb scoring 19.8. Had these players started he may have been able to pull off the win, but it would have been tough since RIP NEWCOMB's team popped off. Sack Wackers definitely has the potential to win a lot of games this year. They got an unfortunate draw as all the other teams had big weeks this week. Sack Wackers came close this week with the big 15 point lead heading into Monday night, but Odell proved that no lead is safe in fantasy football.
Standings
1-Shake "N" Bake
2-RIP RIP NEWCOMB
3-Sack Wackers
4-RIP NEWCOMB
Week 3 Matchups
In week three Shake "N" Bake battles Sack Wackers while RIP RIP NEWCOMB plays RIP NECOMB