Business is booming
Ten years from now, hardly any student will need to know how to separate one chemical from another but yet we're required to learn it in chemistry. Something every student will need to know is how to file taxes, how to balance a budget or maybe how to invest in the stock market. But accounting, Money Management and other business classes are not required to graduate.
All students should think about taking a business class in high school. They are the classes we will really need when we are pushed out into the real world.
Teacher Rod Wiebers has a saying he jokingly throws around: "Debit cash, credit life." Debit is when money is taken right away, while credit is when the money is taken at a later date. Wiebers is saying that taking accounting now helps students instantly and it will reward them later in life. Debit and credit aside, this statement rings true to most business classes in high school.
Accounting 1 and 2 and Business Law are three of my favorite classes that I have taken. Wiebers is one of the funniest guys at the high school and makes you want to go hard at accounting every single day. Teacher Kristine Volesky never lets her classes have one boring day. She helps relate everything we talk about into a real-life scenario or into something high school students will easily understand. Both teachers are passionate about teaching the their respective subjects and each teacher honestly wants each of their students to excel and do their best to make that happen.

Loading ...
In fact, accounting is one of most needed fields in the United States right now. In a late 2015 study performed by Forbes, accounting was the bachelors level degree in most demand, with a job placement of 98 out of 100.
While Business Law is technically a class that is an intro to a college law class, that is not the main purpose of the class. Volesky talked about what she really wanted kids to take away from her class.  "Even a basic understanding of the court system of criminal law and contract law can protect or at least enable you to raise concerns so people don't take advantage of you," Volesky said. Law is a class worth looking at.
A new class that is being offered this year is Entrepreneurship, co-taught by Wiebers and teacher Tim Brickley. "Entrepreneurship is a great new class we offer," Brickley said. "It allows students to pick up on new skills that go into running a business and offer them a variety of new problem solving skills."
Not only do students get to practically operate their own store, but another major bonus is that students in Entrepeneurship also receive three business credits for the University of Iowa. Alec Jackson '18 enjoys the new class. "It's like a student-run class," he said.
Besides the college credits and the knowledge that is actually useful after graduating, business classes help students to meet and talk to new people. They encourage us to step out of our comfort zones and give presentations to an audience all while providing us with information we'll undeniably need after high school.
About the Contributor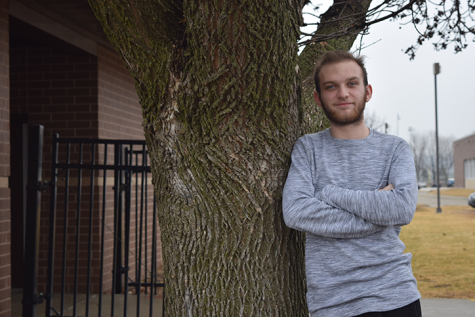 Bryce Schulte, Co Editor-in-Chief
Bryce Schulte '17 has been on staff for three and a half years. He loves eating Pancheros while working on his assignments, as well as watching Project...