Cheerleading is a sport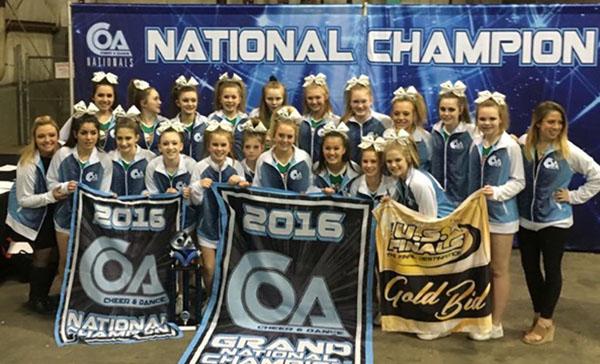 Before a freshman football game on a Friday night, a small group of cheerleaders were walking to Dairy Queen to get some ice cream before they had to yell, jump, stunt and tumble in front of a crowd. Everyone is excited to finally experience the essence of Friday Night Lights, right before the varsity game for Homecoming. Suddenly, everyone's attitude changed when an upperclassman and two of his friends start hollering, "Why don't you take those skirts off and do a real sport?" I rolled my eyes because I've heard this so many times before. I didn't need to prove how hard I've worked to get where I am today.
Then it hit me. I wasn't wearing my all-star uniform or my high school competition uniform. I was representing a squad that sat on the side of a field and yelled chants with the occasional backflip. No wonder people thought it wasn't a sport. But nobody even knew about the competition team at Johnston, or the concept of all-star cheerleading either. They just generalize that cheerleading is not a sport from what they've seen. I don't believe sideline cheerleading is a sport, but competition and all-star definitely are.
Both high school competition cheerleading and all-star cheerleading compete as the sole purpose of the team. All-star cheer is out of school and non-affiliated with the school. When they do their routines, they perform a two minute and thirty second routine that is only for competition.
However, people still seem to believe that it isn't a sport. Gabriela Moriela and Taler Grier, both coaches at Iowa Elite Cheer's Des Moines location, believe this is due to a lack of exposure. "A lot of time people don't even understand that there are teams out there that exist purely to compete," Moriela said. "They don't understand the concept of cheerleading without any words, or signs, or pom-poms. Literally all we have is a nine panel spring floor, some bada** skills, and pretty uniforms."
"
if you disagree, you must live under a rock."
— Matti Rebalsky
Matti Rebelsky is a fellow cheerleader of mine who agrees that cheerleading is a sport. "If you disagree, you must live under a rock," she said. She has been cheering for the past nine years of her life. She has even moved two hours away from her life in Cedar Rapids to come be an ambassador for Iowa Elite's newest addition to the family, the Des Moines location. She would not be that dedicated to an "activity." "We're starting to take over. Cheerleaders are everywhere, and not the kind with tacky poms and turtleneck uniforms."
When it comes down to it, the tides have turned. The activity the world once knew has morphed into something much bigger than what it originally was. All we need now, is the people to see it, recognize it and understand. We're more than just flexible girls in skirts with big bows on our heads. We are athletes.