Cross country teams compete at Marshalltown
Cross Country had a meet Oct. 13 at Marshalltown Community College. It was a fairly short course, going for only three miles, but the last mile was covered in hills. Coaches from other schools tend to not prepare kids for the inclined slope, but this obstacle was simple for the Johnston varsity runners.
Third place finisher Brooke McKee '20 said she had been told to stay together for the first section of the course. "My sister Jess was in charge of pushing the past, so she was ahead and we were just supposed to follow her, and then as the race continued on we just got spread out." She said. They had ran in a "V" formation, their main running style. It helped them to hold the other schools behind them and push past the people in front.
Varsity girls scored first among the schools. "Well, we had a perfect score, so we were one, two, three, four, five for Johnston," McKee said.
The girls finished with a best time of 18 minutes 19 seconds from Jessica McKee '18. Boys' varsity sixth place finisher Joe Schaefer '19 and the one leading the "V" formation enjoyed Thursday's meet. He was the first to finish from Johnston, saying it was his spot to fill since Patrick Bose '17, their ace, was preparing for State and therefore not at the meet. Schaefer gives their formation credit for his win, stating they had gathered in a group at the front of the other schools. "We were told just to stay together and for the third mile go if you feel good," Schaefer said.
The coaches had prepared everyone in more ways than just formation. "There's a lot of speed workout," Luke Perman '19 said. "We like to throw some hills in there occasionally."
They made sure to train the runners on areas with extreme inclines. Second place for the girls' varsity was Paige Horner '20. Over the summer, she and other runners used the hills at the Saylorville Dam to practice.
Schaefer says running the hills actually helped his time. He said the training they had gone through made it so their muscles were used to running the incline. "There's a lot of places you could go and get faster due to hills."
Aidan MacGregor '19 stressed the size of the inclines. "It's so hilly. At the end of that course there was a fairly big hill. It kinda seemed like a mountain. But our team moto this year is 'Running over expectations'."
The team had great luck not only with the hills, but the weather. "I'm a big fan of when it's cooler, so that was a nice, ideal temperature for running," Perman said. "I like being able to, before the race, take your clothes off, and just run. Then when the race is done you can just put on a shirt and be dry."
Johnston boys took second place as a whole group, following behind Dowling Catholic. There were mixed feelings about Dowling's win in the boys' cross country. "I heard the other boys' teams were really good this year," McKee said.
The boys credit Dowling's win to their runners missing the meet or running with injuries. "One didn't run [because] he's getting ready for state, and another just didn't have a good race." Perman said.
MacGregor ran with an IT band, an injury that causes pain between the hip and the knee and only get more agitated with activity. He has not let that stop him from running and he fully intends to make it to the State competition.
Both MacGregor and Perman are sure they will be able to dominate all other schools during the district and state meets. "[Dowling] can have that one," Perman said. He is confident in there ability to beat them at later meets.
About the Contributor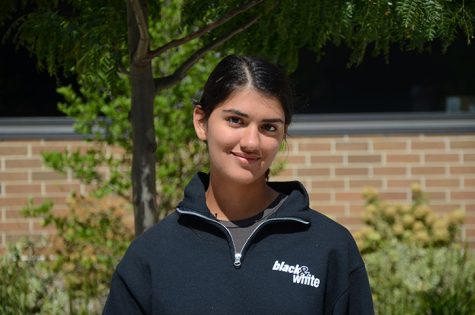 Shabana Gupta, Staff Writer
Shabana is going on her second year with newspaper. The majority of her time is consumed by fantasy, which is why she's constantly covered in paint and...