There are so many different forms of therapy, each best suited for different problems. Cryotherapy isn't very common in Iowa, but it does exist. There's a location in West Des Moines that offers this therapy, and I decided to give it a shot. To be honest, it only took a couple minutes. The most time-consuming aspect of the experience was just driving to and from there.
Cryotherapy mostly aids in blood circulation, lowering recovery time needed for athletes and even helps with weight loss. When I first heard of it, I was doubtful of it even working. I mean, freezing my body sounds absurd. To my surprise, it worked wonders and I continue to go back to this day.
I wasn't the only one skeptical. Brooke McKee '20 was also hesitant to try cryotherapy. "At first, cryotherapy scared me because I didn't know how it would work and I thought I was going to freeze," she said. "After my first time going, I realized it wasn't scary and it actually felt really good."
To break it down, the person undergoing cryotherapy has to strip into their undergarments and then stand in a tube that normally goes up to about their neck, but varies depending on the person's height. They stand in there for two to three minutes, while the container gets continuously colder, reaching a low of -250°F. The skin reacts to the cold air by sending signals to the brain which in turn releases endorphins (feel good chemicals) and norepinephrine which reduce inflammation. The blood in the body rushes to the core, replenishing it with fresh oxygen and nutrients. The tube is designed so frostbite can't happen, so no need to worry about that.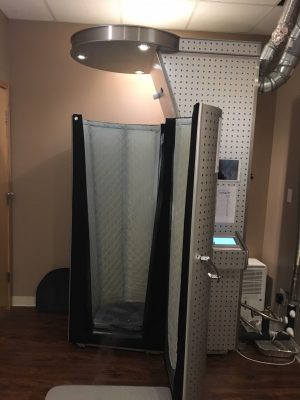 Anicka Schmitt
It also flushes toxins from injured parts of the body. After finishing treatment and stepping out of the tube, the blood flow goes back to the rest of the body as normal while the chemicals help to reduce pain and inflammation in the needed areas of the body. Normally the human body does this on its own, but the cryotherapy helps speed the process.
After experiencing it first-hand, I guarantee that people thinking about cryo should try it. I was scared at first. I didn't know what to expect from a tube with steam overflowing from the top. Once I stepped in and the door was closed, the lady helping talked me through the process. She listed all the ways cryotherapy helps the body and how it can help me as a runner.
I'll admit, it was cold. What else would you expect from a tube that reaches -250°F? I had goosebumps and I was shivering. I was only in the tube for two minutes and ten seconds before getting out. I was still cold, but once I stepped out I warmed up relatively soon. As I left the building, I was already feeling more energized and had an extra bounce in my step. Throughout the rest of the day, I felt really good. My muscles felt strong and relaxed, my skin felt healthier and I had a really positive attitude.
I noticed a difference in my workout the next day too. My legs weren't sore from the previous day, and they didn't hurt like they usually do when I started to run. That helped me push harder in the workout and feel better about the results that I could accomplish. "After I was done, my legs felt rejuvenated," McKee said. "My legs were sore before I went, and when I was done they weren't as sore anymore." She also noticed an increase in her performance during workouts.
It might sound scary and intimidating, but the results are worth it. Even if you absolutely hate the idea of it, I strongly encourage everyone to try it at least once.