Finals are forever
And Johnston should keep it that way.
I'm the epitome of type A when it comes to schooling. I get all my assignments in on time,  I study like crazy for tests and presentations and I don't settle for less, especially when it comes to grades. Just like everyone else, I get stressed out when the semester draws to a close.  Everything is due all at once and you have to do your best on every unit test in order to get the grade you want.
Spanish was a class that I struggled in. I worked very hard the last month of the semester to raise my grade to an A-. After numerous tests and tons of studying, my grade came out to be an 89.35 percent. My last chance to raise it was by doing well on my final. I used studying habits and went in for additional help which resulted in me scoring a good grade. I was then able to raise my grade to a 90.00 percent, something I would not have been able to do without the option of taking a final. Taking final exams in most courses is a good idea because they give students a last chance to raise their grades and prove what they know.
As much as we all wish that final exams would disappear after high school, they don't. A lot of us plan on going to college and in most college courses the final exam counts for a more than 15 percent of the semester grade. Having test-taking experience and the development of study habits that high school final exams offer can help in future stressful situations.  Finals actually make you spend additional time studying material from earlier in the year. Bringing back old learning targets and lessons offers the advantages of spaced repetition, which will result in students having a better grasp on criteria. Taking finals seriously in high school sets you up for more success in the future, whether it is in college or even in a work environment. All students should perform to their best of their ability and show off their skills and knowledge of the courses.
Dallas Center-Grimes (DCG) allows students to opt out of some final exams. Students may opt out of two tests if they have an A- or higher in them. Jane Altman, an English and speech teacher at DCG, who  previously taught at Johnston, said that the overall idea behind opting out is to allow students more time to study for college level courses. Juniors and seniors participate in classes that are advanced placement (AP), dual credit or are offered through Des Moines Area Community College (DMACC). Those courses tend to be more rigorous when it comes to coursework and the DCG policy states that students are not allowed to opt out of those finals. I disagree with their thinking. I do not think that most high school students use the time set aside for extra studying correctly. As a high school student, I know how easy it is to get distracted by a "free day." Many of us would rather grab lunch with a friend or relax at home, without even a thought of school.
Another reason for all students to take all final exams is that it is an ingenious way to prevent students from skipping school. It makes students take attendance more seriously. I have seen numerous scenarios of students skipping everyday classes, not worrying about big affects in their grades, but when the 15 percent final comes around, they make sure that they are there in order to prevent detrimental damage to their grade.
Johnston tends to take final exams rather seriously and students are expected to take every class exam. The district has no plans at this time to change the final exam policy. This is wise because requiring students to practice skills needed later in life helps them in the long run.
About the Contributor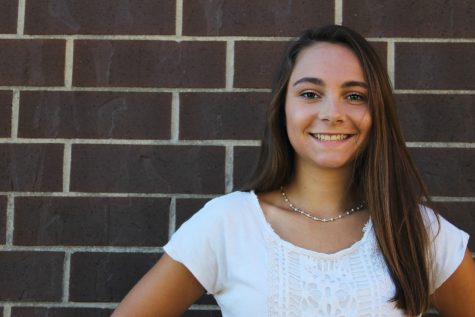 Mackenzie Beck, Staff Writer
Mackenzie Beck is a junior and is on her first year with the Black & White. She enjoys hanging out with her friends, watching Chicago Bears football...