Green Day's long-waited return to Des Moines does not disappoint
In my parents' old Chrysler Town and Country, en route to Kids Teen Connection, a first grade version of me listened to "Wake Me Up When September Ends" by Green Day as it played through the radio. Without knowing the meaning of the politically charged album "American Idiot" or even knowing the correct lyrics to a single verse of any song, ask me at any point of my first grade year what my favorite song or band was and I would have undoubtedly said Green Day. Since then many things have changed, but my fondness of Green Day is one of the few things that have not.
When I found out that I got Green Day tickets for Christmas I was ecstatic. April 3 I made my way to Wells Fargo Arena to see a band that myself and the city of Des Moines have waited to see live for the past 10 years.
We arrived just as the opener, Against Me!, began to play. They were alright but are not my style. The energy at that point was dull, few people in the crowd stood during that part. Half an hour later Against Me! left the stage and the crew began setting up for Green Day.
The first real highlight to the night was when they got the crowd fired up by playing  "Bohemian Rhapsody" by Queen on concert level sound.  Shortly after that song, Green Day came to the stage. And despite frontman Billie Joe Armstrong's mispronunciation of "Des Moines" the concert was off to great start. Green Day started with "Know your Enemy," and we quickly experience one of Armstrong's favorite traditions. About half way through the song Armstrong asked someone from the audience to come up on stage. Armstrong pointed to a male teenager in the front. "Do you know the lyrics to the song? You do? Alright get your a** up here." After singing the a verse and chorus to the song, the fan did a well executed  stage dive back into the crowd. We are not even 10 minutes into Green Days two-and-a-half hour concert.
Green Day followed with "Bang Bang" and "Revolution Radio" both of which hits from their new album. Green Day showed off their lighting and pyromantic specical effects.  At the beginning of every chorus during "Revolution Radio" fire  was shout shot several feet in the air. This set the tone for the rest of the concert, as they continued to use fireworks, and fire in a large amount of the songs.
Those two songs were followed by one of my favorite songs: "Holiday" from "American Idiot." This song contains the perfect balance of hard rock sound and politicaly charged lyrics. This song bridged well into the next song they performed, "Letterbomb." This is where we got see the first of Armstrong's commentaries of the night.
Green Day as a band has never been afraid to share their opinion, and Armstrong has been an outspoken critic to President Donald Trump, having some not so kind words for the new president during many of his concerts.  Des Moines was no different. While Armstrong kept most of his first speech about coming together to overcome racism, sexism, and homophobia, Armstrong did make one jab at Trump that was one of the most defining moments of the night. "This country was not reserved for big, fat men in ties that go way too f***ing long." Armstrong would have one more shout out to Trump at the end of "American Idiot" with a very loud "F*** you Donald Trump!" which set everyone into a frenzy.
Outside of those two instances Armstrong kept the political banter low, and the music and energy high.  Most of their set came from the albums "American Idiot,"  "Revolution Radio" and "Dookie" with seven, six and five songs respectively. However, Green Day did play songs from their lesser known such as "Warning" and even some old-school Green Day when they played "2000 Light Years Away" from their 1991 album "Kerplunk!" The band also had a couple covers, including "Knowledge" by Operation Ivy, during which Armstrong had someone from the audience play the drums and another play the guitar. Both people did outstandingly well.
As the concert went on Armstrong's experience and showmanship shined. From little things like getting the crowd to shout back to him, to larger things like using a water cannon to spray the audience in the front.  The constant energy was a true testament to the powerhouse that is Green Day.
The concert would continue with the great energy, great music and an outstanding performance form Armstrong. However, after two hours the concert was coming to an end. After the song "Forever Now", the band left the stage. However everyone knew that it was not the end. A few minutes later the band came back out with a four song, 30 minute encore that pretty much summed up the entire night. They started the encore with "American Idiot," with hard rock sound and political banter in full force. The band continued the punk feel with the nearly ten minute song "Jesus of Suburbia." And just when you think that was the end the a single spotlight shines down on Armstrong as he performs "Ordinary World," a slow song that sets a somber mood to end the show. That song would be a perfectly acceptable ending to any good concert. However for Green Day their is only one song acceptable to end with, the last song at almost every Green Day concert: "Good Riddance (Time of your life)." With the legendary lyrics "It's something unpredictable, but in the end is right I hope you had the time of your life," it is is the perfect end to an unbelievable show. And as song ended and confetti shot out of the cannon to fill the entire air of Wells Fargo Arena, a concert was seemingly over in a matter of minutes.
This had everything you could possibly want. And while they never did play "Wake me up When September Ends," I could not help but think how excited first grade me would of been to see this concert. I guess some things just never change.
About the Writer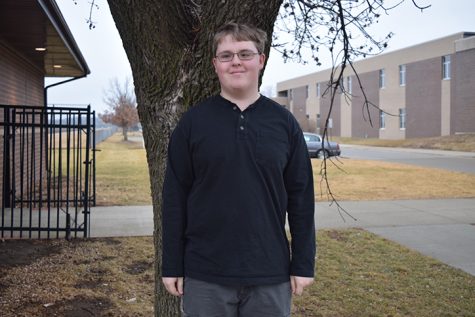 Matthew Berry, Opinion Editor
Matthew was born with hair on his chest, has a handle bar mustache, mows lawns with the teeth of his vanquished enemies, tells the sun to get up when he...