Head Over Heels Original Cast Recording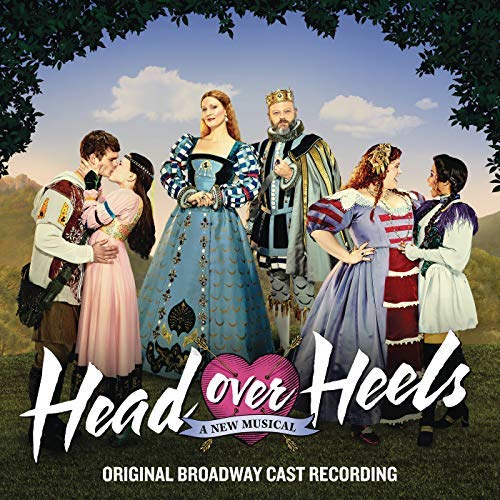 Welcome to a new cast album of the new week. Recently a new musical had started shows on broadway. That show is Head Over Heels. Head over Heels or HoH for short is a musical with the story of The Countess of Pembroke's Arcadia by Sir Philip Sidney set to the music of the famous American 80's rock band The Go-Go's. Some of The Go-Go's most recognized songs like Vacation, We Got The Beat and Our Lips are Sealed. I was able to the show in August during its first few weeks on Broadway. I have to say that without a doubt the cast album is as amazingly done as seeing the musical live.
With great performances by Bonnie Milligan, Taylor Iman Jones, Etc. With also the first trans-woman ever on broadway, Peppermint. Peppermint is vastly known for being an lgbt rights activist and for placing second on the ninth season of the Emmy Award Winning T.V show RuPaul's Drag Race.
The cast album really shows this cast's strength and ability of performing songs just as good as the original chart topping singles. A stand out in the entire soundtrack would have to be Automatic Rainy Day sung by Taylor Iman Jones and Bonnie Milligan in which there's a slow build up to when Milligan and Iman Jones have a belt off leading up to a harmonized ending note. Other stand outs consist of songs like Vision of Nowness sung by Peppermint and The Head Over Heels Ensemble, Heaven Is a Place on Earth sung by Jeremy Kushnier, Rachel York, and Peppermint, and Beautiful sung by Bonnie Milligan.
I highly suggest anyone who likes The Go-Go's or Broadway cast albums to listen to this album. I believe that this is one of the best contemporary musical's this year.