Innovation practices before big competition
Innovation, the varsity show choir, practiced the night of April 4 in preparation for their competition this weekend in Branson, Mo. Innovation will be one of six mixed choir groups performing at the Fame Show Choir Competition that could qualify the group for Show Choir Nationals.
"I am very excited to have the opportunity to perform at Branson," senior Dewann Stone Jr. said. "I have been waiting for years to be able to perform at a national competition and it feels great to finally make it there."
At the competition each choir is allotted 30 minutes to set up the stage, perform and tear down. Innovation has 11 risers they have to set up as well as other props, including the background for violinist, junior Becca Swanson during the song "Shatter Me". At rehearsal the choir was able to get on the stage, perform and get of the stage in 28 minutes.
This year the choir was able to win all but one competition where they came in second. However, the choir is still practicing to improve their performance.
"I think as a choir we need to keep reminding ourselves to just have fun because we perform better when we aren't worried about anything else and we just enjoy the moment on stage together," Stone said.
Many seniors in show choir have been in show choir for six years, starting out in seventh grade.
"It was amazing growing up with these people and it was amazing performing beside all of them each year," Stone said.
The competition this coming Saturday is one of the last performances the choir will do this year, making it one of the last performances that seniors will get the chance to participate in. "As long as we perform our best then nothing else matters," Stone said.
About the Contributor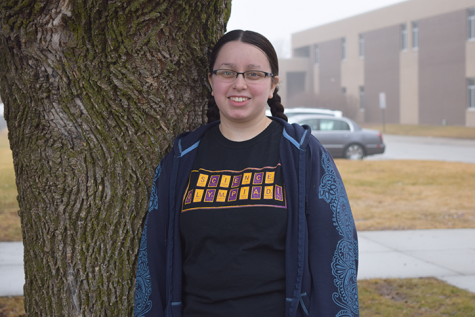 Kitarrah Mangra-Dutcher, Photo Editor
Kitarrah Mangra-Dutcher is a senior. She is The Black & White's photo editor and part of the High School Science Olympiad team. She is also a mentor...