Misery: Different than Expected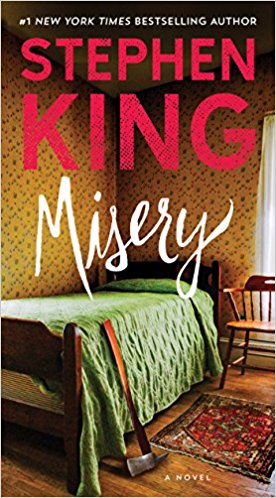 Misery by Stephen King was published on June 8, 1987. The book plot follows successful author Paul Sheldon the writer of the Misery series. After he becomes involved in a drunk driving accident, he is left with two crushed legs and a revival caused by Annie Wilkes. Annie Wilkes is a retired nurse who is obsessed with Paul's books the Misery series. After the books end in a way that Annie doesn't like, she kidnaps Paul and forces him to write another book.
The characters in this novel were beyond enjoyable in the scariest way. Annie Wilkes especially was utterly terrifying. From her underlying, but no doubt, insanity to her constant mood swings to the horrible things that she tortures her "favorite author" with. She was built around the fact that she loved the books and that she had kidnapped Paul Sheldon to write her another book. Slowly over the course of the story she becomes more erratic and her more violent side is shown. At one point in the book she cuts off Paul's foot and cauterizes it then chops off his thumb because he asked to fix the typewriter. In another scene Paul escapes the room he's trapped in his wheelchair and finds a book. The book is filled with all of the people that Annie had killed. The range spans from her father to the elderly to infants that she had access to as a nurse.
Because the book is told from Paul's perspective and he's a prisoner, only Annie and himself are primarily present in the book. Paul's character, though good, wasn't as well built. He was kept captive for months on end and tortured in unimaginable ways. As an empathetic reader, of course we want Paul to escape and live. Though that was all he really had for him. His mind was where most of the book was based and his thoughts were as a base, boring. He was a stuck up rich author who made a bad choice and became addicted to medication. In 420 pages of literature he didn't have much growth or realization. His character, however, was enhanced by Annie and her madness. The equal blend of their personalities and conflicts helped advance the story.
The plot line was surprisingly enjoyable. Annie's bipolar disorder led to a constant question of what was going to happen next. Some scenes she would be the sweetest girl ever and other scenes she was a demon in a human form. Her purpose for keeping him alive and safe was so that he could write her another book. At the center of the whole story is Paul's wish to escape. With both agenda's constantly pushing against each other the book never slowed down. The finale was something that I didn't guess either. As a reader who can usually figure out the ending to a book 200 pages from the end, it was a refreshing change.
In short, the book was a fast paced and scary thrill ride that kept me reading until the very last page. Of the two characters, 50% in Annie was fantastic while Paul was left in the dust. While only using two characters and keeping a story going with a good plot I applaud Stephen King. 4/5 stars.