One in 1500: Nolan DePover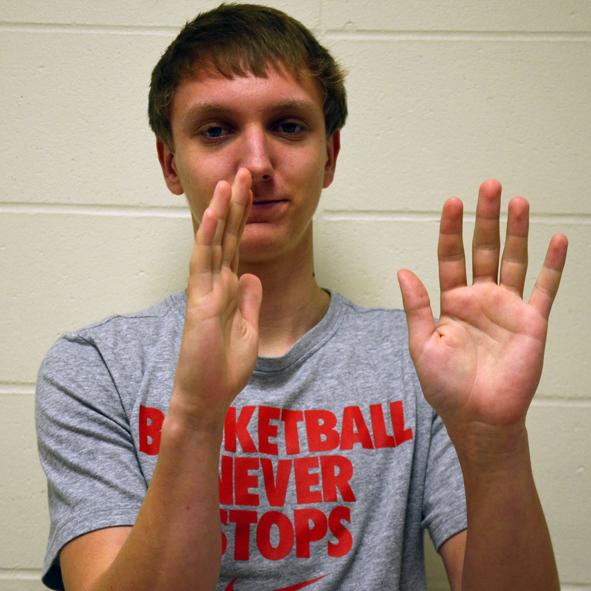 With stories about dunking over a seven foot athlete, climbing Mount Everest and dreams of being the president of the United States, sophomore Nolan DePover admits that none of these are true, though it does give a glimpse into how sarcastic and joking DePover really is.
DePover first moved to Iowa when he was a one-year-old from South Dakota where he was born. He still visits every now and then to visit his grandparents and the scenery that he enjoys there.
He grew up with two sisters who have now graduated college from Buena Vista University and Iowa State University, his stay-at-home mom and his father, who works for C.H. Robison, a company that offers supply chain services such as freight transportation.
The one person who has been very influential and has been a big role model in DePover's life is his father. "My father's a good example of how I want to live my life," DePover said. "I'd like to be successful when I'm older like him." This has spurred some interest to Nolan about possibly majoring in business and marketing in the near future.
A passion for DePover has been playing basketball since the fifth grade.  He plays for both the school as well as an AAU team, King of Hoops. Incidents with his right arm has pushed DePover in the competitiveness of the sport. He has managed to break his right arm five times starting at age seven from doing a backflip on a hill, to running in his close friend's barn. This all led up to his arm being bent to a 45 degree angle. "After getting my final X-ray it was hard to deal with and I then asked if there was something we could do to fix and make it straight again," DePover said.
During this procedure, a specially designed metal rod was inserted through the marrow space in the center of the bone.
This forced him to have a a metal plate and six screws put into the bone of his arm to adjust and position it back into its normal place. Being in a cast for so long has put DePover behind in basketball, but he still manages to continue and strive forward to improve his skills. "I had to learn how to adjust my shot, and I was out for so long that it put me behind," he said.
During his junior year, DePover gained a close relationship with his school basketball coach Jamie Cason. "Nolan is a very hardworking kid, that comes to practice with a smile on his face who always gives off positive energy," Cason said. "He takes pride in doing whatever it may be to the best of his ability to make his teammates better."
DePover's mother Teresa DePover claims that her son is an opinionated person who will argue with you given the chance, but does have his times when he is serious and compassionate. "He's that kid that will always hold the door for the old couple behind or in front of us, which cracks me up," Teresa said. "I remember when his grandmother was passing away a couple years ago when we visited her he would hold her hand as he said his goodbyes, it was a really sweet thing to experience."
A close of friend of DePover is sophomore Ian Dean; they have known each other since the age of six when they first met through their parents. Still today they spend time at DePover's lake house. "When we go off to college and when we come back to town I can see us hanging out again, sharing memories, that is where I see us going," Dean said.