Raising Healthy Dragons: A community-focused learning forum
An open-house-style mental health forum for parents was held on Monday, April 23rd, 2018
Summit Middle School hosted a resource fair and featured sessions to help parents better understand their kids. C.O.R.E., G.S.A. and We The People, UnityPoint Health, JCSD Nutrition, Johnston Public Library, Johnston Police Department, Orchard Place, Youth Homes of Mid-America, Project Silence No More and Johnston Community Education all had booths set up.  Each resource group displayed tables where they had handouts and information for parent/students.
The focus of this year's event was on transitions: adjusting to the new high school, elementary students transferring to the middle school, and middle schoolers moving up to the high school. Chris Wilson, the district's Student Well-being Coordinator organized this event. "We know that transitioning to a new building can be tough so communicating some of the challenges to parents is one way we can help support students," Wilson said. 
Wilson's blog can be found here
Board of Education member Matt Stahr was a part of the planning process. "In addition to sharing, being able to listen to others and have discussions is important so (students) can make new connections and find the support we all need," Stahr said.
Stahr hopes that this will provide a look into the daily life of students, since there have been many times where their own son or daughter may not share their experiences.
The fair ran from 6 p.m. to 8 p.m., and the presentations ran from 6:30 to 8 p.m. Last year's attendance on Monday Nov. 28 added up to about 150 individuals and the student panels were the most popular attraction. Johnston's Fareway donated water and juice boxes as well as Chex Mix and cookies for those who took part and JHS SilverCord students provided childcare for families that needed it.
The featured sessions included two student panels called What I wish my parents knew and Sources of Strength peer program. Amber Dal '20, Amanda Roberts '19, Fabiola Castanedas '20, Angel Nyaga '20, Jennah Johnson '18, Jess McKee '18, Julia Martell '18, and Lal Siama '19 participated in the panel What I wish my parents knew. The students were asked questions by both parents and counselors Lisa Boge and Erica Woods-Schmitz. Students 4 Change gave a presentation on the Sources of Strength peer program which provides support system options. The two other panels included JMS and Summit students. They shared their experience of coming to middle school and how they adjusted to the changes.
The last presentation was called Raising children in a digital world.  Professor Byran Burkhardt form DMACC discussed some current issues related to kids and technology. This included how to create boundaries, monitor online activity and have conversations about healthy technology use. "Student voice is extremely important which is why we are involving students in the panels," Wilson said. "I hope parents have an opportunity to learn about technology and raising kids in the digital age as well as ways they can help their child develop healthy coping and resilience during the panel presentation".
Other mental health resources for parents and students can be found here.
About the Contributor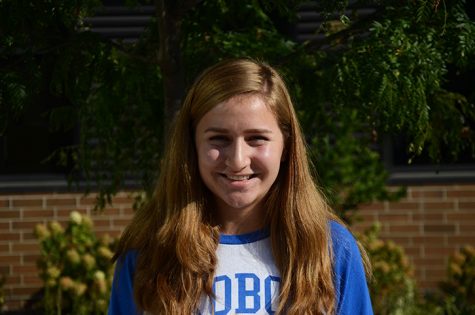 Sarah Nelson, Staff Writer
Sarah is a Senior and it's her first year joining the Newspaper staff. She's involved in the Teen Clay Academy at the DSM Art Center, SilverCord, Archery...