Spreading awareness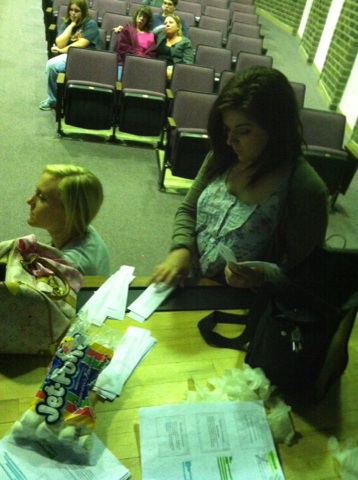 Seeing her friends riding around in a wheelchair and eating marshmallows was not what sophomore Addy Pender expected from Disability Awareness Day.
"I expected to just kind of talk to [the students with disabilities] and get to know them," she said. "But I learned that they only learn differently from us, and otherwise they're really just the same as us."
Disability Awareness Day, though now over for this semester, has been giving out the message of how kids with disabilities really live.
"We do it in hopes of making some of the Gen. Ed. students feel more comfortable around their peers who have disabilities," junior Callie Coulter, president of Best Buddies said.
"We talk about how to approach, and how to be respectful of these students. What many of us do not realize is that a lot of the individuals at out school with disabilities are very coherent in thought and are capable of listening, hearing, and feeling. In fact, a lot of these students are great to hang out with, funny, witty and charismatic."
The most recent Disability Awareness day, which took place on November 20th, , included a variety of activities to engage it's participants. After a quick Power Point presentation outlining various mental or physical disabilities, students partook in "games" that aimed to simulate what a normal day is like for a special needs student.
"We try to really put students in the shoes of a special needs child to show how difficult common activities can be for them," Jackie Sapp, health teacher said.
Some examples of activities are students trying to move around in a wheelchair, test their fine motor skills with thick gloves and trying to talk with marshmallows in their mouth.
"A message that we try to get across on Disability Awareness day is that the students with disabilities at our school are more like you than unlike you," Coulter said.
"What's different is the way they are treated. These kids are affected by bullying, hurtful words and being ignored just like we are. And on that note, they are affected by smiles in the hallway, saying hi and new friends just like we are."
The group behind this event, Best Buddies, a student-led club aimed at spending time with special needs kids, is in charge of putting the day together.
Best Buddies is an organization that pairs students in the general education with students in special education. There are three different types of buddies: peer buddies, who spend time with their buddies at least twice a month, lunch buddies, who eat lunch with their buddies about once a month and writing buddies, who write or email back and forth with their buddies.
However, Johnston is not the only school with this type of club. Best Buddies is a national organization with state and local chapters, and several area high schools have Best Buddies Programs, including Iowa State University.
"In my classroom my associates and I show our support for the Johnston Best Buddies by wearing 'Spread the Word to End the Word' bracelets (that were sold last year to by the Best Buddies program for awareness) everyday and supporting our students participation in this great program. Lisa Adams, a special needs teacher and Best Buddies participant said. "Mrs. Koob and Mrs. Johnson do a great job with our local chapter."
Best Buddies offers a variety of activities for all students that participate.
"I have a lot of friends that I email and still talk with even if they're graduated," senior Austin Feinberg, a special needs student who participates in Best Buddies, said. "We do activities like bowling, tie dying t-shirts, or just hanging out. I really like it."
If students are interested and want to learn more, Best Buddies is open to anyone who wants to join. New members can go to Melissa Johnson's or Angela Koob's room, go to a Best Buddies biweekly meetings or contact Callie or Allyse themselves. Even something as small as giving the Best Buddies Facebook page a "like" can be a way to show support. 
"Participating in Best Buddies gives a unique kind of reward," Coulter said. "For me, it has taught me to be compassionate to everyone. I find myself judging people less, and just learning to like my peers for who they are, and to be thankful for the skills and traits people can bring to the table, however unique. The students with disabilities who participate usually do not have a lot of friends, or see the same faces day after day. Kindness goes a long way with anyone, especially these students who are sometimes undermined by the rest of the population here at JHS. People are people, even when the challenges they face are different from one another."