Student Austen Knowlton sheds 85 pounds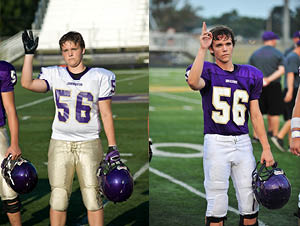 Austen Knowlton, now a junior, stepped on the scale freshman year to see the number 240 staring back at him. That moment he decided to make a change. He decided to go on a run that day.
Two years later, Knowlton has lost about 85 pounds and continues to learn and practice more healthy habits. "I'm not saying I'm obsessed with it," Knowlton said. "It's just changing things up is better."
Knowlton struggled at the beginning. "It wasn't easy to start off losing weight," he said. "It all comes off pretty much at once because it take four weeks for yourself to start seeing results, eight weeks for everybody else." He found the first eight months particularly difficult because he was losing weight at a slower rate.
"Keep pushing through," Knowlton said. "Because it's not easy and it't not fun. You don't always get where you want when you want it but eventually it all ends up coming out and I think within like two months I lost like 14 pounds and that's just when finally it started clicking just because you're body starts getting used to things and it starts cleansing."
Knowlton has changed his diet by eliminating certain things such as white bread, pop, cakes, cookies and candies. He currently cuts out all carbs to follow the Atkins diet. A normal dinner for him may be grilled chicken with salad, or steak, carrots and celery without dressing.
He finds exercise such as weight lifting and running important. "If I was going to recommend something, just having that cardio- running is just really beneficial to you because it keeps your body always moving and even when you're not moving it keeps you going and it keeps burning through fat and calories," Knowlton said. "It's burning all the calories that they are already consumed and putting good use to the ones that are leftover."
Workers at Complete Nutrition helped Knowlton answer health questions he has had. He credits a lot of his health knowledge from just talking about nutrition with others. "[The people who work at Complete Nutrition] really know what they're talking about. I don't see them necessarily as salesman they're just people that are helping me out."
He now finds results not only on the scale, but also claims he requires less sleep after his lifestyle change. The change also brought a change in his social life and self-esteem.
"I'm more accepted," he said. "I don't want to say that because it sounds too cliche but I just got a broader friend group besides just my three friends and I can go with whoever and it will be fine. And my confidence (has grown)."