Students carry unlucky umbrellas
The sociology classes are known for their norm breaking assignment. The projects are meant to help students understand social norms and how they effect people. Teacher Kelly Coleman assigns it for this reason and because it is a staple in sociology classes everywhere. "I actually had to do it when I was in college," Coleman said.
The project can be terrifying to some students which is why Coleman gives her students a month to complete them. "I like to give [the assignment to students] before Thanksgiving break because a lot of people like to go and do their violation especially [during] Black Friday shopping because the malls are really busy," Coleman said. "The small subtle ones are always good. Violating personal space is [also] a good one because as Americans we're very protective of our personal space."
"
"Social norms really dictate our actions and behaviors in everyday situations."
— Sarah Nelson '18
Sarah Nelson '18 and Haley Radke '18 decided to work on the assignment together. The two walked around Merle Hay Mall Nov. 26 with open umbrellas as if it were raining inside. Radke and Nelson received many mixed reactions as they walked around, most being long stares. They were also greeted with cameras, snapping pictures of the two girls. "Breaking a norm feels weird," Radke said. "People will obviously react to you."
Some of the more memorable reactions included being asked why they were carrying around umbrellas and is it not bad luck to have it open inside.
The two were even approached by bystanders, who asked why they were carrying the open umbrellas. One person asked them about the bad luck of carrying an open umbrella inside," Nelson said.
Past sociology projects have included a lemonade stand in the snow, guys dressing up to play the piano in Von Maur horribly and a kid who went trick or treating one randomly chosen night in November. He was welcomed with a door slamming in his face at one house and another man elsewhere gave him a can of corn as a treat.
About the Contributor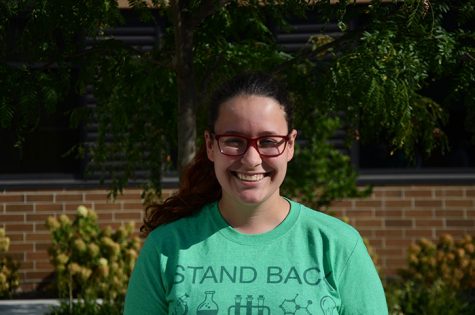 Molly Hauser, Staff Writer
Molly Hauser is a senior and this is her third year on the Black and White. She likes alternative music, Netflix and anime/manga. She also can't wait for...