Students dance for charity
The high school's first Dance Marathon was held Jan. 28 by National Honor Society (NHS). The event raised money for the Children's Miracle Network hospital in Iowa City, a non-profit organization that raises funds for childrens hospitals, medical research and community awareness of children's health issues.
Students were invited to attend a night of dancing, games and giving back for a cost of 20 dollars. Students also received t-shirts to wear during the event.
This event was inspired by the annual Dance Marathon held by Iowa State University (ISU) which benefits the same charity. One NHS committee traveled there together and came back with a plan. Many other colleges and universities across the Midwest also hold their own dance marathons, like the University of Iowa and Indiana State University. High schools are now getting involved. Before Johnston, Ankeny Centennial and Dallas County-Grimes have been holding their own dance marathons. "We really wanted to do something for the kids," Bryce Schulte '17, one of the heads of the Dance Marathon committee, said. "Going to ISU last year and seeing them so happy and carefree despite the hell they're going through struck a chord with me. I knew we had to get involved and help them and their families."
The doors for the Dance Marathon opened at 6 p.m. and closed at midnight. Students were encouraged to attend the whole six hours, as a major part of the event is staying on their feet. Games and activities included Tic-Tac-Toe, Jenga, Twister, a photobooth and a DJ. The school also provided snacks for participants and had an hourly "morale dance" along with stories from local beneficiaries of the Children's Miracle Network.
"
Seeing them so happy and carefree despite the hell they're going through struck a chord with me,"
— Bryce Schulte '17
One speaker was teacher Kari Gray who has a special connection with the Children's Miracle Network. "My son Dylan was born three months early in Davenport, Iowa and was taken to the University of Iowa," Gray said. "[He] spent his first four months of life there.  The Dance Marathon helps families with many challenges; they help to purchase snack machines that are free of charge for the families, they have reading materials for the family as they spend their days at the neonatal intensive care unit (NICU).  They provide blankets and toys for the kids to brighten up their rooms."
Some high school students like Marianne Aldrich '19 have been following dance marathon events at local colleges and universities and were happy to see it come to the district. Her oldest sister was on the executive board for ISU's Dance Marathon last year.
The group raised 580 dollars for the Children's Miracle Network in Iowa City.
About the Contributor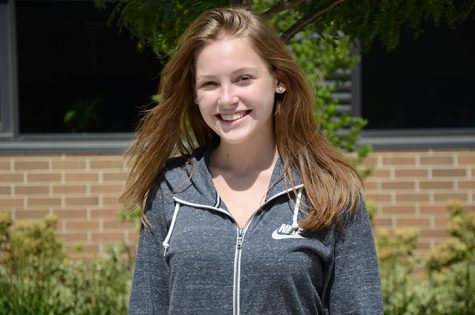 Sloan Meader, Staff Writer
Sloan is a sophomore and this is her first year on the Black & White. She enjoys coffee, Jane Austen books, classic rock music and videos of pandas...