Backtracking on breakfast
Schools drill many things into student's heads, one being that breakfast is the most important meal of the day and that eating breakfast is absolutely necessary otherwise bad things will happen in the future. Health classes spend entire units on nutrition to prove this very point. "We talk about how important breakfast is and we reiterate that throughout the whole nutrition unit, which is a couple of weeks," health and PE teacher Destiny Willer said.
Contrary to what schools have been teaching, many recent studies and articles now make the claim that breakfast is not as important as everyone once thought it was. This may come as good news to students since many of them skip breakfast for various reasons. "Many of these studies that have been done are not by credible resources," Kari Paige, Johnston HyVee dietitian, said. "I say stick to the research that has been proven time and time again. Breakfast rocks." However, these studies and articles are numerous and many of them are from noteworthy publications, such as The New York Times, National Public Radio (NPR), The Washington Post and The Atlantic among many others. In a simple Google search of "breakfast study", the first page of results is primarily made up of articles saying breakfast is not that important anymore.
According to researchers in Canada who studied the habits of about 12,000 adults, "breakfast consumption was not consistently associated with differences in [body mass index] or overweight prevalence." Additionally, a recent study published in the American Journal of Clinical Nutrition found that, when it comes to weight loss, breakfast eaters do no better — or worse — than people who skip breakfast.
Paige is not concerned with the correlation between skipping breakfast and weight. She is more concerned with the implications of skipping breakfast and day-to-day performance, especially among students. "Skipping breakfast has a negative impact on a school-aged child's ability to effectively problem-solve," she said. Paige said skipping breakfast can increase a person's risk of hypoglycemia and low energy levels. "This condition can bring on physical symptoms such as shakiness, dizziness, weakness, headaches, tingling and a rapid heart rate," she said.
Peter Compiano '18 is an example of the effects of skipping breakfast mentioned by Paige. "I notice when I don't eat breakfast because I don't feel as energized," Compiano said.
"
Skipping breakfast has a negative impact on a school-aged child's ability to effectively problem-solve."
— Centers for Disease Control and Prevention (CDC)
Compiano has not always been a breakfast eater. "For a good month or so, I did not eat breakfast," he said. "Usually when I wake up, I'm not in the mood to eat breakfast or the thought of eating breakfast will make me sick to my stomach." Recently, Compiano has been eating breakfast more frequently, and he says it is starting to become a habit. "I've noticed that I get more energy throughout my day when I eat breakfast," he said. "I just feel more full, and a more whole person." Due to his new-found positive experiences with breakfast, Compiano recommends that everyone should eat breakfast.
Willer acknowledges that many students might not have the time to eat breakfast due to their busy lives filled with academics, extracurriculars, and sports. However, she thinks a full schedule is even more of a reason to eat breakfast. "Kids have a whole day of activities and classes that they need to do to be energized for," Willer said. "Breakfast is a good start to that."
Even so, there are many people who do not eat breakfast, like student Carson Jendro '18. One reason Jendro skips breakfast is because he gets up at 7:25 each morning, which leaves him no time to eat. "I get to school on time and if I waited around for breakfast, I'd be late every day," he said.
Like Compiano, another main reason that Jendro skips breakfast is because of how it makes him feel in the morning. "I can't eat too early after I get up otherwise I'll get sick," he said. "I don't like feeling sick throughout the school day." The only time Jendro eats breakfast is on weekends.
Since Jendro has been skipping breakfast for most of his life, he has gotten used to it. He does not think it has had a major impact on him. "I might get hungry a little bit before lunch, but it's not mood-affecting or anything like that," he said. Jendro thinks one of the reasons he does not feel different from skipping breakfast is because he eats a lot for other meals. "I do eat a hefty lunch and hefty dinner, so I feel like that makes up for [skipping breakfast] protein and consumption wise," he said.
On the rare days that Jendro has eaten breakfast, he has had a positive experience. "It was nice not being hungry," he said. "I remember going to lunch and being like, 'Wow, I'm not actually that hungry,' so I didn't' eat as much and I didn't spend as much. That was nice."
It is not just students that skip breakfast. Even health teacher Jackie Sapp frequently does not eat breakfast the first thing in the morning. "I'm not a very good breakfast eater I'll admit," Sapp said. She says on the weekends she will eat breakfast, but she usually does not eat breakfast on weekdays because she is not hungry when she gets up. "When I get [to school] in the morning like at 10 o'clock I'll have some fruit," Sapp said, "But when I get up, no, I drink a Coke. I hate to say that."
Willer has also skipped breakfast before. "I'm not saying you have to eat breakfast to be a good learner or to get through your day or anything like that because there are times that I've been so busy that I skip breakfast," she said.
With so many opinions on breakfast, it may be difficult to decide what to do regarding whether or not to eat the morning meal. Most modern health professionals agree that breakfast is very important, but they also recognize that skipping it is not the end of the world. "It's important to figure out what works best for you, not everyone else," Paige said.
About the Contributor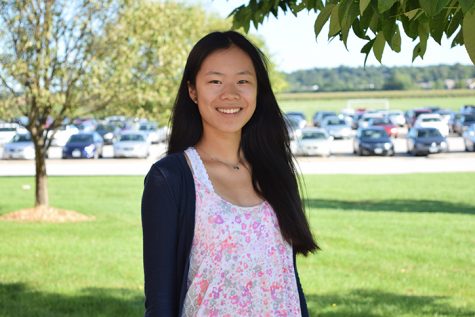 Angela Cai, Feature Editor
Angela is a sophomore who puts the pro in procrastinate. She is involved in too many activities for her to handle, so she's pretty salty most of the time....