Elective classes help students make connections
Walking into seventh period peer art in room 301, the first thing someone will see is students teaching students. Conversations fill the room with instruction and normal high school gossip, but all instruction and conversation is between students. In peer art at the start of class, clay teacher Emily Phillips teaches the peer helpers about the projects and stresses the importance of working with their student they are assigned to help. After the instructions, the helpers travel down the halls to pick up their students and settle them in to catch up as well as work on the project. Working on projects together without adult instruction encourages that one-on-one interactions between the students.
In the high school there are three programs that allow special needs students to collaborate with their other peers; peer art, P.E.O.P.E.L. P.E. or Best Buddies. Peer art was started three years ago by the past clay teacher Theresa Francois, and continued by Phillips. P.E.O.P.E.L. P.E.(Track 7) has been taught by Deb Nicholson and Brian Woodley on and off for the last sixteen years.
Working with the special needs students has proved to be rewarding for the teachers as well as the students. "I love it, it's definitely the most interesting class I've ever taught because there's a different dynamic because not only are you teaching the special needs students but the peer helpers," Phillips said. "There's a lot of different levels of people that you get to work with." The class is full of students, helpers and the special needs teachers. 
The environments of peer art and P.E. are light hearted to focus on the student-to-student relationships. "For the projects you want to have something that everyone can do that are going to be fun and look great," Phillips said.
In P.E., the main goal is to be engaged. "I enjoy the kids and they love the activities, they love being there and they're fun to be around," Nicholson said.
Senior Chloe Keeny, one of the students, has participated in peer art for all three years. "I learned that I like painting, like the toilet paper rolls, it's fun," she said. The students have been cutting toilet paper rolls into thin strips and gluing the sides together to make flowers and then painting the outside.
The projects in peer art are picked out to ensure that the students can get involved. "We did a really fun project where we used shaving cream as a base and then splattered paint on top and then the students would mix it with their fingers creating a marbled effect and then we printed paper on the top," Phillips said. For the students who have less mobility, the peer helpers use a technique called 'hand over hand.' When the peer helper is cutting paper they would lay the students hand over theirs to feel the motion of cutting a piece of paper.
Being a peer helper in both P.E. or art requires students to fill out an application to be sure they would be a good fit. "You have to be very responsible to be in the group, it's not an easy class because no matter what's going on in your day for that 45 minutes you have to be completely selfless, you have to be there for the student," Phillips said. 
It is important in both P.E. and peer art that the helpers are invested in the class. "We want kids that want to be with these kids, that want to work with these kids, instead of kids that want to take it to get out of doing work," Nicholson said.
Junior Mercedes Worsfold has been active in peer art and P.E.O.P.E.L. P.E. for two years now. "I love it, it's probably my favorite class of the day," Worsfold said. "The kids are the best part, obviously because they love what they're doing and it's fun being around them."  
Keeny looks forward to peer art and P.E. daily. "I feel happy because I'm excicted to work with other kids," Keeny said.
One of the main point of peer art is to have relationships with fellow classmates. "The art is secondary in this class, the art is there as a vehicle of communication," Phillips said. "It's a time for them to meet with their peers and feel like a normal teenager."
Even if someone has never worked with special needs kids before it does not mean that they never can. "At first [being in the class] was kind of scary because you're not sure how to interact with the kids but honestly it's just like hanging out with anybody else," Worsfold said.
Worsfold is planning on joining Best Buddies after her experience in peer art. "I'd definitely recommend it because it changes your life and the way you think," Worsfold said. "They appreciate life so much you don't realize how little they have and we take so much for granted, it's a good reminder."
About the Contributor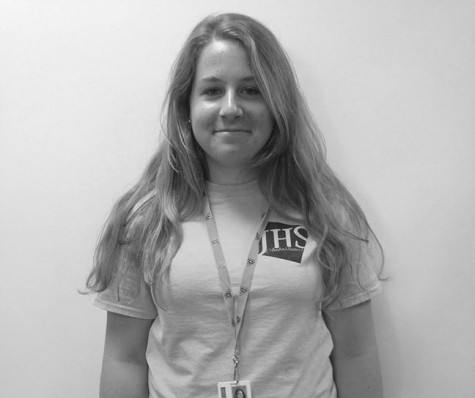 Sarah Caporelli, Staff Writer
Sarah Caporelli is a senior this year and a staff writer on the Black and White. Next year she will attend college in the great state of Minnesota. Sarah's...