"Hamilton" musical's soundtrack lives up to the hype
Well, I tried and I failed to avoid listening to "Hamilton", the musical that swooped in and stole America's heart, as well as 11 Tonys'. Before buying the soundtrack to the Broadway sensation, which tells the story of the life of Alexander Hamilton, one of the Founding Fathers, with a mixture of rap, R&B, and pop, I watched the PBS documentary "Hamilton's America", which tells the story of the musical and the historical figure behind it.
While watching, I was quite charmed by Lin-Manuel Miranda, who came up with the musical and wrote all 46 songs that are on the soundtrack, and also played the role of Alexander Hamilton up until recently. Miranda, who is insanely talented when it comes to music and lyrics, also seems like a delightful person. When talked to in interviews or seen working on the musical, he is always wide-eyed and enthusiastic, talking with his hands and smiling big. Miranda's integrity and clear devotion to his creation was pretty much the only thing I needed to convince myself to check out his labor of love, which he had been working since as early as 2008.
Needless to say, the music is excellent. Miranda has completed a tough balancing act, making all the different types of music come together in a way that makes the story flow and remain interesting. Nearly all of the show is sung through, so if you listen to all the songs and pay attention, you'll have a good grasp on the story. It tells the story of Alexander Hamilton's life from the Revolutionary War up until his death, showing his relationships with his friends, loves, and enemies, amidst professional victories and personal tragedies.
The idea of the life of a Founding Father told in rap is a little jarring for the first few songs, and the opening number "Alexander Hamilton", often comes off as a history sub trying to be hip for his students. But soon I was able to settle into a groove, and by the third and one of the more iconic songs, "My Shot", I was hooked.
Miranda cleverly matches the style of music with the personality of his characters. Alexander Hamilton raps most of his songs, showing how articulate and smart he is. Eliza Schuyler, Hamilton's eventual wife, always sings more traditional Broadway-type songs, with a bit of pop during her candy-coated love song "Helpless", to show her good-hearted and gentle personality. Angelica Schuyler, Eliza's witty older sister, is the only female in the musical who raps, indicating her as Hamilton's intellectual equal. King George III (played by Jonathan Groff in the original recording) sings all three of his numbers in the style of a Beatles breakup song, my favorite being "You'll Be Back".
I find it ironic that Miranda has written a musical that defies musical expectations, yet my favorite song was one that is more traditional to Broadway. "Wait for It", easily the best song in the musical, is a ballad sung by Leslie Odom Jr. as Aaron Burr, Hamilton's frenemy who eventually kills him in a duel at the end of the musical. "Wait for It" can get one fired up just as easily as Wicked's "Defying Gravity", a song that talks about lifting yourself up and waiting patiently for your big chance. Odom's vocal performance is exceptional and helps make an already great song incendiary.
All the performers are great and bring a unique voice to their roles. In a dual role of Hamilton's French friend Marquis de Lafayette and his rival Thomas Jefferson, Daveed Diggs is both hilarious and a fantastic rapper. Phillipa Soo, as Eliza, has a gorgeous and heartbreaking voice that more than once gave me goosebumps. Christopher Jackson, as George Washington, is able to bring out authority and a certain importance simply from the way he sings or spits verse. Renee Elise Goldsberry, who won a Tony for her role of Angelica, can rap five words a second and floor me with her singing voice, especially in the superb "Satisfied", where she describes her love for Hamilton but decides to give him up to her sister Eliza so she can be happy. Miranda is lovely in the lead role, giving a good musical and acting performance.
Lastly, it is a testament to Miranda's abilities as a songwriter that I was able to get swept up in the emotion of the musical without having seen the play in person. The second act and its songs are often heartbreaking, and as I listened in my car I found myself getting choked up. Most of this comes from Soo as Eliza, displaying her incredible soprano for the emotional powerhouses that are the songs "Burn", "Stay Alive (Reprise)" and "Who Lives, Who Dies, Who Tells Your Story?". Miranda and Odom are incredible in the poignant "The World Was Wide Enough" which shows their historic and tragic duel that ended Hamilton's life.
"Hamilton" has become a cultural phenomenon in the past year since its debut on Broadway. It is perfectly understandable why, as the music is amazing and wonderfully performed by its cast. I have so much respect for Miranda and what he was able to create. I can only hope that I can see the show on stage.
About the Contributor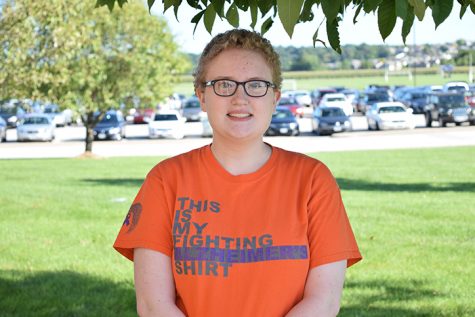 Erin Bockenstedt, Staff Writer
Erin is a senior and a staff member on the Black & White. She likes to watch movies and her favorite is Guardians of the Galaxy. Her favorite TV...