Formed through art; Amberly Dal
Growing up, Amberly Dal '20 spent Saturday mornings with her mom playing with beads. "I would come downstairs and she would have a cup of hot cocoa ready for me and we would just sit by the window and we would make jewelry," she said. "My jewelry was horrible, but I got to pick out beads and I could start understanding what colors mix well together," Dal said. Jewelry is difficult to make because of the number of details that have to compliment each other ranging from colors to shapes.
Without knowing she was practicing, Dal was developing her abilities as she practiced with ascetics and tools. She used wire scissors and learned how to move the wire in delicate formations. "I really didn't realize how much I would gain from it,"Dal said. "It was really just an enjoyment every Saturday and Sunday."
Dal is constantly expanding her artistic experiences. Her mother practices jewelry as a hobby, her grandmother practices oil painting and her uncle used to do charcoal and graphite. Amberly started playing with her mother Stephanie Dal's jewelry at a young age since her mother had the supplies sitting on the kitchen table. "As a kid, I was always around a lot of art supplies and my mom was always into jewelry, so I was just kind of always around it all the time," Dal said.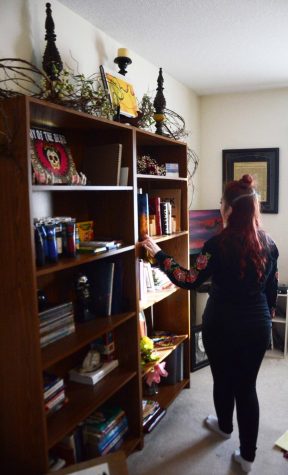 Her mother would tell stories about Dal's grandmother from when her mother was a child. "All the kids and my Meemaw would go to the TV and watch Bob Ross and she would have a canvas in front of her and she would paint and all the kids would watch," Dal said. "Every time I go home to New Mexico there's a big oil painting that she did from Bob Ross, and it just inspires me that not only can they do everyday life and do taxes, but they can do an art career."
Dal is working on her own oil painting in her studio. "I started learning more about oil in an art class that I'm taking, and I never realized how much you could do with oil because I always thought it was just sticky and messy," Dal said. "This art class taught me about layering and how smooth they are, the only step back is how long it takes to dry." Oil paintings take approximately one month for each layer to dry and it is possible to put on the next layer.
"I started learning all of the possibilities that can happen, because not only can you just paint with it you can do textures, you can make your painting come off the canvas," Dal said. "So I got really interested and I started doing underpaintings which are where you [add different colors such as yellow over blue] and you just keep doing it on top of other colors and it becomes this dynamic piece of art."
One of Dal's most recent paintings depicts an underwater scene. "I was going through a few emotional days so I sat in front of my canvas and I was like, what do I feel like," Dal said. "I'm kind of alone, so I was like, I painted this kind of depth ocean feel but I feel like I'm with this person and I'm wrapped up with them, but I still feel alone."
Symbolism is essential in Dal's art. Her current piece has brightly colored fish swimming around the ocean. "There's nothing special about the fish, it's just a symbol that represents an emotion," Dal said. "I was sitting in that chair painting the ocean I was like this ocean can really use some fish, So I got the idea of the fish and their fins being ripped."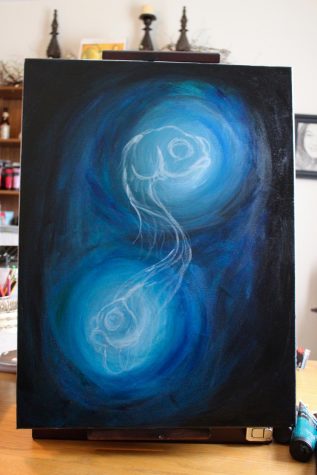 The shelf in Dal's studio is filled with art books about other styles and different paints and other materials. Lots of Dal's inspiration comes from famous artists, particularly Salvador Dali. "If you've ever seen his work, it's realism but it doesn't make sense because it's not really real," Dal said. "I love his work and I want my fish to be realism but I don't want it to look like any fish that ever swim before."
Dal doesn't feel a need to plan her art in depth before starting. "One of my favorite things is being thrown in front of a canvas and just making stuff up," Dal said. "Colors can change your mind at any moment, and I just go with how I'm feeling and what the paint tells me to do."
She does not only use emotions as inspirations when creating pieces, however. "When I have free time, I'll look up something or go on Pinterest and Pinterest gives me a lot of inspiration," Dal said. Recently, one of her friends has been interested in tattoos, so Dal searched for ideas to design.
Dal decided on a rose design wrapping up the thumb. "I started getting into tattoo designs because I really loved how they got straight to the point, and you could do anything with them," Dal said.
Dal bought Indian ink, which is used by professional tattoo artists when they sketch out designs on skin. Her ink is not permanent and has the feel of a paintbrush. "I always wanted tattoos, I feel like my skin is super pale so the color can really pop with it," Dal said. "I started getting into tattoo designs because I really loved how they got straight to the point, and you could do anything with them."
A few years ago, Dal started focusing on tattoos and took a step away from realism. "I got a sketchbook and I filled it all with old American tattoo designs and a lot of roses are in old American tattoo designs and I started drawing them but I wasn't very good at them at first." Dal said. Roses soon became her favorite image to mess around with.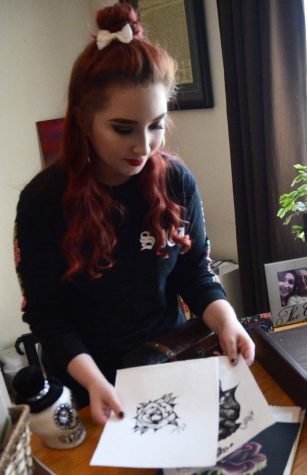 Roses are used for many situations and have multiple meanings depending on the time, place and culture. The color of a rose can change how people feel about them, and how they feel about the art. "You can put the petals anywhere you want and you can make it feel anything you want so that's how I really got into those." Dal said.
She started by copying roses from other drawings and art styles. "I would find something on Pinterest and copy it right away," Dal said. "Then I started getting really familiar with where things are placed and that when I could start breaking off and branching off on my own." Dal started copying with her favorite design, eyes. "Right away I would look at pictures and then after I got familiar with everything I could make my own person," Dal said. "I could make an eye of someone who doesn't exist or that I don't even know and it could be a different person's."
A few years ago, Dal created an art studio on their second floor. The room was her dad's office before he moved out, and Dal decided to create a different feel in the space by transforming it into a place for creativity. Her studio now has natural light
Starting at age eight, Dal took courses at the Des Moines Art Center. At the age of 14, she began taking a college-level class in a scholarship program at the Art Center named Teen Art Academy. Her peers were all 18 year-olds which led to a newspaper article covering her abilities as the youngest ever accepted in the program. Dal has recently been admitted into a full scholarship summer internship program at the Art Institute of Chicago, which is her top choice for art school. It is ranked the second best art school in the U.S.
About the Contributor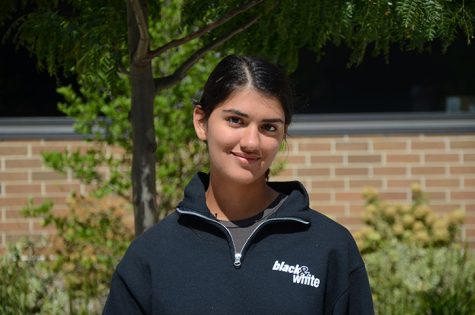 Shabana Gupta, Staff Writer
Shabana is going on her second year with newspaper. The majority of her time is consumed by fantasy, which is why she's constantly covered in paint and...