SmallCakes Cupcakery is a very small and very pink cupcake bakery located in West Des Moines at 6305 Mills Civic Parkway, Suite 3109. Selected by USA Today as one of the top cupcake shops in the nation, SmallCakes offers 18 gourmet cupcake flavors and 15 homemade ice cream flavors.
The interior of the establishment was all pink. It was very basic and I kind of expected it to look very monochrome and girly, like almost every cupcake shop. It was also almost completely silent, there was no music playing and there was one very quiet girl working behind the counter. That made the whole experience kind of uncomfortable, but it wasn't awful.
I decided to try two cupcakes, one vanilla and one chocolate. I realized this might have been a mistake for one person as the cupcakes are very large. However, two large cupcakes were only $6, which was a pretty good price given the size. The two cupcakes I got were a birthday cake cupcake, and a chocolate lavender cupcake. The first cupcake I tried was the birthday cake cupcake, which was a vanilla confetti cupcake with white buttercream frosting and tiny rainbow sprinkles on top. It was very pretty, but also pretty underwhelming. The cake was very dense and didn't have much flavor, and the frosting was overly sweet and sugary. Trying to eat the whole thing would have been nearly impossible, given how sweet the frosting was and how solid the cake was. Maybe the cupcake I had gotten was part of a bad batch, but I would not recommend the birthday cake cupcake to anyone who ventures out here.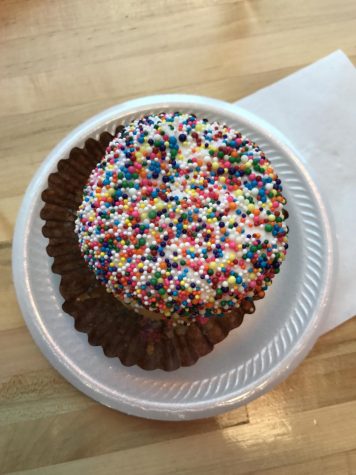 I prefer chocolate cake over vanilla, so I was hoping the chocolate lavender cupcake would redeem SmallCakes. This cupcake looked pretty average compared to the birthday cake one, as it was just a plain chocolate cupcake topped with what looked to be cream cheese frosting and purple sugar sprinkles. However, it was much more impressive than its appearance. The chocolate cake was perfect, it was the right balance of fluffy and moist, and it had a very defined chocolate flavor. Unfortunately, the lavender flavor wasn't very pronounced, which was a little disappointing. I speculated that the lavender flavor was mixed into the frosting, but the cream cheese overpowered it, so it was more subtle than I would have liked. Together the frosting and the cupcake wasn't bad, it was actually very good, but there just wasn't enough lavender. I would still definitely recommend this cupcake to anyone, as the texture of the cupcake was absolutely perfect.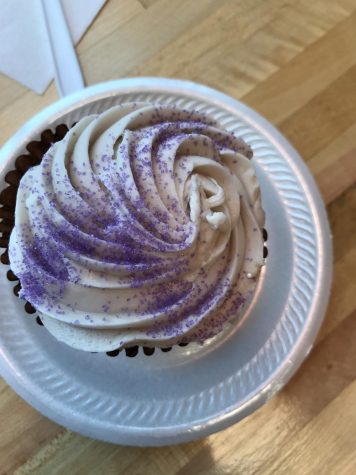 Overall, SmallCakes left me with a just average impression. The only "wow factor" this place had to offer was the size of the cupcakes for the price, which I really appreciated. For those heading out to the Jordan Creek area, I would say that SmallCakes isn't a stop necessary to make.