At this point, almost everyone in the metro area has heard of or seen pictures of the donut masterpieces that derive from Hurts Donut Company. Located at 5513 Mills Civic Parkway in building #105, this is the perfect spot for a snack for those headed to Jordan Creek Mall. Hurts Donut is also open 24/7, so anyone can enjoy these donuts anytime of the day.
The interior of Hurts Donut is colorful, bright, and unique. Neon lights, bright colors, and exposed brick are splashed along the walls, and classic rock music blares throughout the establishment. The atmosphere that the company is going for is edgy, trendy, and overall relaxed to appeal to younger generations. While the decor was well executed and placed, the atmosphere that I experienced was nearly the opposite. Going in I knew that it was going to be pretty busy since it was 9:30 on a Sunday morning and everyone and their brother was dying to get out and try these gorgeous donuts. There was a line nearly out the door, and the staff behind the counter seemed to be struggling to keep up. However, my experience wasn't all unpleasant. Everyone looked like they were enjoying themselves and the donuts, and there was even a window that looked into the kitchen area where while waiting in line, you can watch some of the staff actually constructing the donuts and frying them. When restaurants have a way for customers to see what's going on in the kitchen, it creates a much more personable experience and casual atmosphere.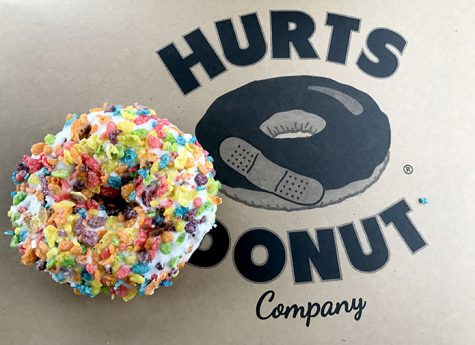 By far, the most important part was the donuts. Hurts Donut has a good mix of cake donuts, which tend to be smaller and more dense, and yeast donuts, which are fluffier, lighter, and slightly larger. We purchased 12 donuts that we chose ourselves, but they also offer the option of the staff randomly choosing 6 or 12 donuts. I tried 3 of the 12 donuts, which were the Flintstone, Red Velvet, and Cosmic Brownie donuts. The Flintstone was the first donut I tried, and it set the bar really high. It was a plain vanilla cake donut with white icing, covered in fruity pebbles. While it was an overall delightfully sweet and crunchy experience, the cake donut was truly incredible. It was crispy and sugary on the outside and on the inside it was soft and fluffy, which is exactly how a cake donut should be. It set the bar really high, but the Red Velvet donut was maybe the best donut I've ever had in my life. It was similar to a cake donut but it was much softer and had more of a red velvet flavor. The donut was topped with cream cheese icing and drizzled with chocolate, and it tasted like a masterpiece. It literally tasted like a cupcake but in donut form, which I had no idea that could even happen. The only downside to this red velvet masterpiece was how rich it was. It was hard to eat this donut and then eat anything else for the rest of the day. However, I would still recommend the Red Velvet donut with cream cheese icing to anyone.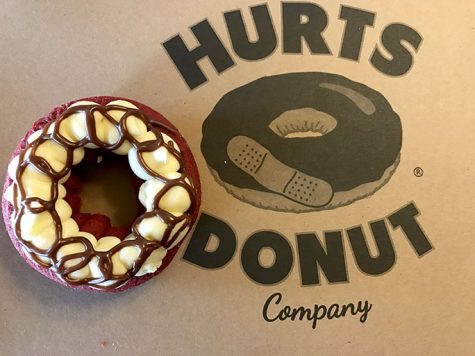 The last donut I tried was the Cosmic Brownie donut. This donut is a chocolate cake donut with chocolate icing, topped wit those colorful little chocolate sprinkles that come with regular  cosmic brownies. Except this donut didn't taste like a cosmic brownie, it tasted like a homemade brownie with homemade chocolate icing and everything. It was extremely delightful, and the chocolate cake donut was constructed the same way as the other cake donuts. Though it did taste like a homemade brownie, it was also pretty basic. Out of the three donuts I tried, this was probably my least favorite since it wasn't extremely unique or cutting edge like some of the other flavors Hurts Donut had to offer.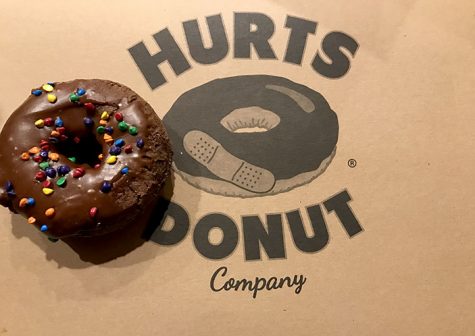 Overall, Hurts Donut Company did meet my expectations, but there were some downsides. It isn't very big and there is almost always a long line, and most of the staff were high school students which usually isn't the most pleasant experience when trying to get donuts at 9:30 in the morning on a weekend. I would recommend going sometime in the afternoon or evening to beat the crowds and the potential judgment of your peers. Hurts Donut is also all the way out in West Des Moines which is a bit of a drive from Johnston. However, the beautiful donuts  have drawn so many people in from all over, and I was pleasantly surprised with the range of flavors. Hurts Donut Company is mostly worth the wait, and I would highly recommend it to anyone who loves donuts.