Krunkwich Ramen House is a small and colorful restaurant located on 2721 Ingersoll Ave. in downtown Des Moines. This restaurant specializes in ramen, vietnamese-style bahn mi sandwiches, and Korean cuisine. Walking in to the establishment, customers are immediately greeted by a large mural painted on the wall that consists of animated cats and various types of ramen ingredients. Small tables and booths decorate the main eating area, and the kitchen is open for customers to see the cooking process. Customers order food by walking up to the counter and receiving a number, then the friendly and accommodating waitstaff bring the food to your table. Overall, Krunkwich has a very comfortable, casual and relaxing atmosphere, making it the perfect place to meet with family and friends.
One of the best parts of the whole experience was the wide variety of Asian cuisine offered. The first item we ordered was the Pork Belly Bahn Mi. Bahn Mi sandwiches are Vietnamese sandwiches that consist of pickled vegetables and pork or chicken between two slices of a french style baguette bread. The Pork Belly Bahn Mi had the typical pickled carrots, cilantro and cucumbers, but the meat they used was pork belly. Pork belly is something everyone should try at least once in their life. It's a very succulent and rich cut of meat that holds flavorful so well, making it the perfect ingredient to a sandwich. The fresh and light vegetables helped balance out the rich flavor of the pork, and the crispy yet fluffy bread brought the whole sandwich together.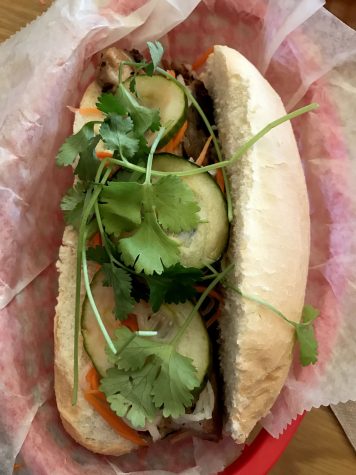 Krunkwich is primarily known for their wide variety of creative and unique ramen bowls. After looking at the menu and narrowing down our options, we went for the Chicken Ramen and the Seoul Food Ramen. All Krunkwich ramen bowls were topped with a seaweed and fish cake garnish, similar to how traditional Japanese ramen bowls are put together. The seaweed had very little flavor, but after it was submerged in the broth for a bit, it was much tastier. Similar to the seaweed, the fish cake was a little bland on its own, but had more flavor once it was exposed to the broth. Fish cakes also have a very unique and acquired texture and flavor, so they aren't for everyone. However, the chicken ramen was good, standard, hug-in-a-bowl ramen. It wasn't extremely exciting or innovative, but it was made up of such high quality ingredients and flavors. The chicken ramen consisted of a chicken soup broth, traditional ramen noodles, roasted chicken, corn, and cabbage. The chicken was so tender, juicy and flavorful, and contributed to the overall flavor really well. However, the roasted corn had to be the best part of the whole dish. It provided a sweet element that balanced out the overpowering salty chicken flavor. Overall, it was a good standard ramen that any ramen newcomer should definitely try.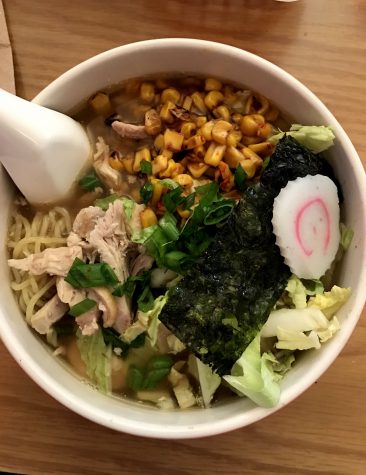 The Seoul Food Ramen was my favorite dish that we ordered. This ramen was made up of smoked tare, bulgogi, kimchi, gochuchang, and the traditional ramen noodles and a spicy broth. After looking up what some of these ingredients were, we decided to try it. Tare is the base of many ramen dishes and makes up the flavor of the broth. Bulgogi is a Korean grilled and marinated beef, gochuchang is a Korean condiment made up of spicy chili and soybeans, and kimchi is spicy pickled cabbage. This ramen was essentially all sorts of Korean barbecue flavors inside a single bowl of ramen. Another thing that was really unique about this dish was how the intensity of the spice actually contributed to the flavors in the ramen rather than just setting your mouth on fire. Most spicy foods have spice to make it hot, but the spices used in this dish helped with making it more flavorful. This ramen tasted so authentic and different from most typical Asian cuisine. I would definitely recommend this to anyone who likes spicy food and Asian flavors.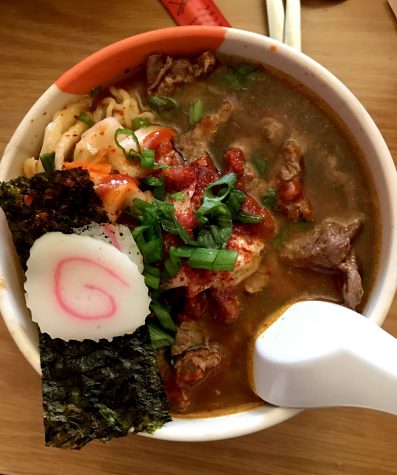 There were a couple of downsides of the experience at Krunkwich. One of which was the noodles in the ramen bowls. Though traditional ramen noodles are more flavorful and have a more unique texture, they absorb broth really quickly, making you more full quickly. It made it a little hard to enjoy more of the ramen, but Krunkwich provides take out containers specially made to take the ramen with you. Another issue customers have to deal with is parking. There are no real designated spots for Krunkwich customers, and there is limited street parking near by. However, there are some small parking lots around the area with free parking, but they do fill up fast.
Above all, Krunkwich Ramen House is the perfect place to go for a casual bowl of ramen on a chilly January afternoon. The service and food were excellent, and I would definitely recommend this restaurant to anyone who wants to try new Southeast Asian flavors.