Southern Comforts Bubba is a "Downhome & Downtown" authentic Southern food restaurant located in downtown Des Moines. The restaurant gets its name "Bubba" from a traditional Southern nickname for male siblings, and ties together the concept of Southern comfort food.
This restaurant made a fantastic first impression on us. The waitstaff had the concept of Southern Hospitality tied down and executed it perfectly. Everyone was so kind and polite, and were truly happy to have us there. Huge sparkling crystal chandeliers adorned the ceiling, and vintage leather couches and chairs were filled with families and friends enjoying each other's company. Most of the walls were exposed brick, which gave the whole restaurant a casual yet dressy aesthetic. My parents and I were led upstairs to more of a family dining area, which had a view of the bar and seating areas downstairs.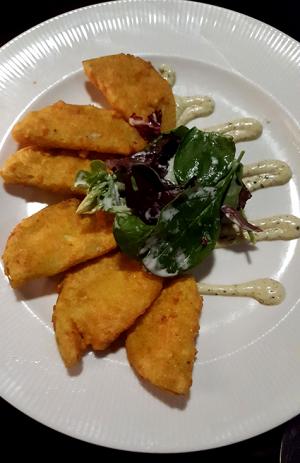 Another thing that Bubba did extremely well was create delicious and authentic-style Southern classics. We chose fried green tomatoes as an appetizer, which were a perfect start to our meal. Cooked green tomatoes tend to be kind of flavorless and watery, but the fried coating helped combat it. They were still fairly bland, but the poblano aioli and small salad made it a nice and light appetizer. The best part was that they didn't weigh you down at the start of the meal like most fried appetizers tend to do.
The main courses were by far the stars of the show. I ordered the classic chicken and waffles, and the portion size was huge. However, it might have been the best thing I've ever eaten in my life. The fried chicken was tender, juicy, and crispy, with just a hint of cajun-style spice. Its breading had a blend of spices that set it far above KFC and Popeyes. The chicken itself was well cooked, and extremely juicy and flavorful. Below the fried chicken was the waffle, which by itself was fluffy yet it still had a cornbread-like texture and flavor. But with the addition of the honey butter and smoky maple syrup, it transformed. It was the perfect ratio of buttery, fluffy, and sweet. When you combine the fried chicken and the dressed up waffle, the craziest flavor sensation ever is created. All together the dish was spicy, sweet, crispy, and fluffy. It worked so well, and I would highly recommend it. However, with the large portion size, I would recommend splitting it among a couple people.
The next thing we ordered was the pimento mac and cheese with crawfish. I was honestly a little scared of this dish. Crazy pretentious mac and cheese is something that I really don't like, the original classic stuff has always been the best in my opinion. But this mac and cheese made me see things in a whole new light. It had the classic cheese sauce that everyone knows and loves, but the addition of the pimento to the sauce gave it so much more dimension with the flavor and spice. Also, if you have never tried crawfish or been a fan of seafood, this dish will most likely convert you. The crawfish on top of the cheesy pasta was a beautiful and bright red garnish, but it could also be broken open and eaten like a lobster. There was also some of the crawfish meat in the mac and cheese, which helped switch up the texture and flavor in every bite even more. This mac and cheese was so sophisticated with its new flavors, and it was absolutely delicious.
The final main dish we ordered was the shrimp and grits. Everyone knows and loves some kind of shrimp, but grits get a bad reputation. Either people don't know what they are, or they are put off by their beige-oatmeal appearance. But, if you add cheese, they are completely changed for the better. The cheesy grits were so buttery, light, and flavorful, and they were given texture and flavor with hot sauce, corn, and some fried pork lardons. Adding the cajun grilled shrimp tied all the flavors together, and gave it a tender and creamy texture combination that you can never go wrong with.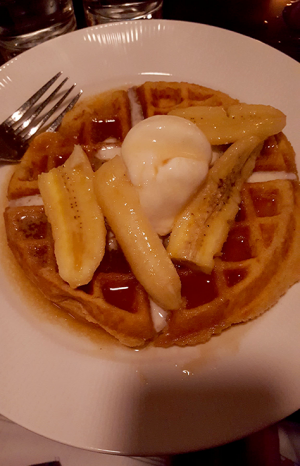 We ordered two desserts to finish off our big meal, and they were equally visually pleasing and delicious. One of the desserts we ordered was the bananas foster, which is a classic southern dessert that consists of caramelized bananas and vanilla bean ice cream. Bubba's take on bananas foster was the traditional caramelized bananas, vanilla bean ice cream, all on top of a hot brown butter waffle. Since this waffle was made with sweet brown butter, it was slightly different from the waffle that came with the fried chicken. The ice cream and waffle could have been a dessert on its own, but the cooked bananas gave it that flavor that brought it all together. The waffle was topped off with the ice cream, caramelized bananas and bourbon caramel sauce, which made it look like a sweet waffle mountain with peaks of caramel and banana. Unfortunately, it was so sweet with the caramel sauce and the caramel flavored bananas, it was hard to enjoy more than 3 bites. Still, it was all a great flavor combination.
The very last thing we ordered to finish off our meal was the winning dessert, buttermilk chocolate layer cake. This wasn't even close to the result of a boxed chocolate cake mix. The cake itself was like a soft and fluffy brownie in the form of a layer cake. Instead of the cake layers being separated by frosting, layers of caramel, pecans, and chocolate sauce took its place. Again, it was extremely sweet, but the flavors worked and the crunchy nut element was a refreshing addition. The slice was iced with a chocolate fudge buttercream, and you can never go wrong with chocolate on chocolate. The bananas foster and buttermilk chocolate cake were a sweet finish to our authentic Southern meal.
Bubba knew exactly how to bring the South with them to the Midwest, but the whole meal was extremely decadent and rich. I would definitely recommend sharing dishes with others to save money and appetites. But if you can't make it to the deep South for your comfort food fix, Bubba will definitely satisfy those cravings.