Guru BBQ is a small and artistically decorated barbecue restaurant in downtown Des Moines. However, it is not the simple barbecue joint as it sounds. Located in a very small indoor strip mall just across the street from Principal Park, Guru BBQ is an Asian fusion barbecue restaurant, with heavily influenced Korean flavors.
Walking into the establishment, my mom and I were immediately greeted by the host and given a menu to take a look at. After checking it out and deciding this was the place for us, we were led to a small and secluded booth. The booth was pristine, and had three bottles of different types of barbecue sauce: Korean, Harissa and Guru. The Korean sauce was the spiciest out of the three but was still very mild. It tasted a lot like a standard barbecue sauce with hints of citrus and soy sauce, with a slight spice at the end. The Harissa sauce tasted the most authentic southern barbecue sauce. It was smoky and tangy, with just a little bit of tomato flavor. The Guru sauce was a combo of both sauces and was also the most mild.
The restaurant itself was extremely visually pleasing as well. The walls were covered with exposed brick and concrete painted with blacks and grays. It also had a very bike-friendly atmosphere, as lots of bike riders were seated around the bar and subtle bike themed decorations like a bike tire light fixture. The restaurant was also very clean and polished, making it a great place for a meal.
The food at Guru BBQ was by far the best part of the whole place. The menu was set up with half Asian-style picks and smoky barbecue meals. For an appetizer, we chose the steamed buns with fried chicken. They tasted like an actual masterpiece. It wasn't set up like a typical dim sum steamed bun. It was set up more like a taco, the bun being the base, and the fried chicken, carrots, radishes and basil on the top. It was a little hard to eat, but we managed. The bun was so soft and sweet, and the crispy fried chicken and freshly shredded vegetables made it the perfect combination of completely different flavors and textures.
The next menu item we ordered was called the Old Sober, which was a noodle/ramen style bowl. It was filled with an extremely flavorful and hearty beef broth, cajun-spiced pulled chicken, slow roasted brisket, cilantro, basil and lime, topped with a boiled quail egg. We mainly ordered this because it sounded really filling and tasty, and also because we've never eaten a dish with a quail egg before. We tried the quail egg first, and it was quite possibly the strangest food and flavors ever experienced. It had the same texture as a regular hard boiled egg, but smaller than half its size. The white was essentially flavorless and rubbery and the yolk was strangely acidic and sweet. Other than the quail egg, the rest of the dish was top notch. The chicken and beef were seasoned perfectly, giving them a slightly smoky-spicy flavor, and the vegetables and lime balanced it out with a more fresh flavor. The Old Sober was definitely our favorite thing we ordered.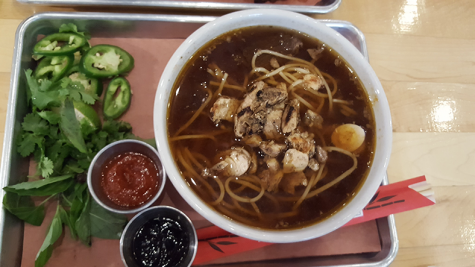 The very last thing we ordered was simply a typical barbecue meal with your choice of two smoked meats and two sides. In our case, we ordered brisket and pulled pork with smoked cheddar mac and cheese and chocolate bacon chili. The brisket and pulled pork tasted so much like authentic Southern barbecue, it was hard to believe it was being served in downtown Des Moines. The addition of the sauces made it that much more flavorful. The meal also came with jalapeño and cheddar cornbread, which was great texture wise, but the spicy and cheesy flavor just didn't match up with the sweet buttery cornbread. Another disappointment was the mac and cheese. As someone who has never come across a bad mac and cheese, this was truly a let down. It was made with standard macaroni noodles and a basic cheese sauce, which didn't make it very flavorful, and the cajun spices on top didn't help it out much either. On a higher note, the chocolate bacon chili was incredible. The beans and bacon were so tender and filled with flavor, and the dark/bitter chocolate tomato base took it to another level. All together, the chili made up for the mac and cheese and cornbread.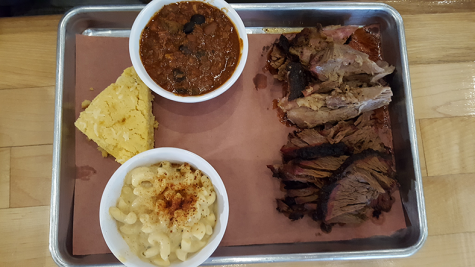 What really tied everything together was the kind and inviting staff. When we walked into the indoor mall, the staff at Guru BBQ immediately greeted us, making it the obvious lunch destination over the other two restaurants. Our server was very kind and helped with menu recommendations on what we should order. She even validated our parking ticket so we didn't have to pay for parking downtown.
Guru BBQ was truly an experience. The food was so unexpected and delicious, and the restaurant overall was pristine and gorgeous. For an Asian-barbecue fusion, Guru is definitely in first place.